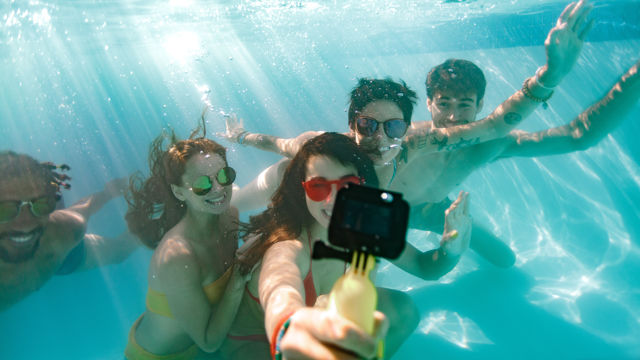 Tech to take on your travels
In this blog, we'll share some of our favourite ways to use tech when travelling.
01 September 2023
For many of us, technology plays a big part in our lives. When we go away, it can be a great opportunity to take a break from digital devices, and if that's something you'd like to do, then this isn't the blog for you – check out this one instead where we explain how to take a digital detox and the benefits it could have on your wellbeing.
In the first blog in this mini-series, we shared some of the ways tech can be used to keep you safe and informed on your holidays and in the second one, some of the Digital Eagles shared how they use tech for planning and making the most of their holidays. In this blog, we're going to share a list of Digital Eagles travel essentials and some of our favourite ways tech helps us have fun while we're away.
The tech you could take on your trip can depend on the type of holiday you've got planned. To help you only take the tech you need, think about the things you'll be doing, the accommodation you'll be staying in, and what facilities they have.
An important consideration for many of us going on holiday is luggage space. Most airlines have restrictions on the weight or size of the bags you can take on board with you. Fortunately, there's lots of tech that can be used on holiday that's lightweight or can save space.
Tech solutions for your holiday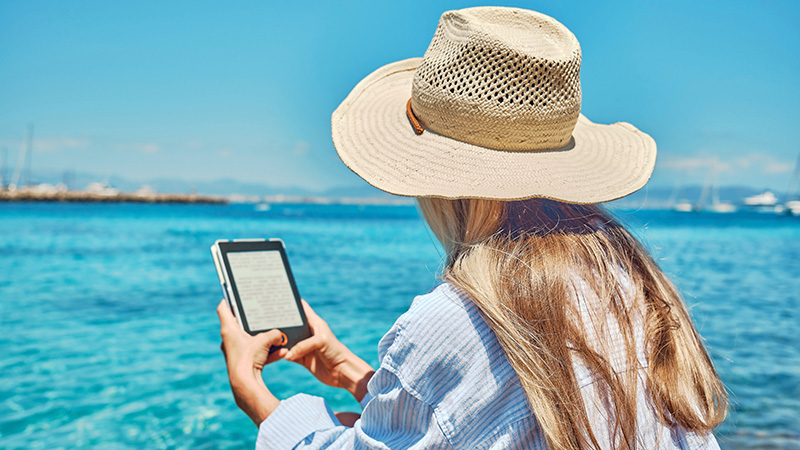 E-books 
Lots of us enjoy reading a book, and going on holiday is often the perfect time to settle into the latest offering from your favourite author. While you could use an e-reader loaded with the books you want to read, if you only read occasionally, you don't even need to buy a standalone e-reader.
There are lots of apps available which enable you to use your phone or tablet in almost the same way as an e-reader. Find out more about e-readers in this article.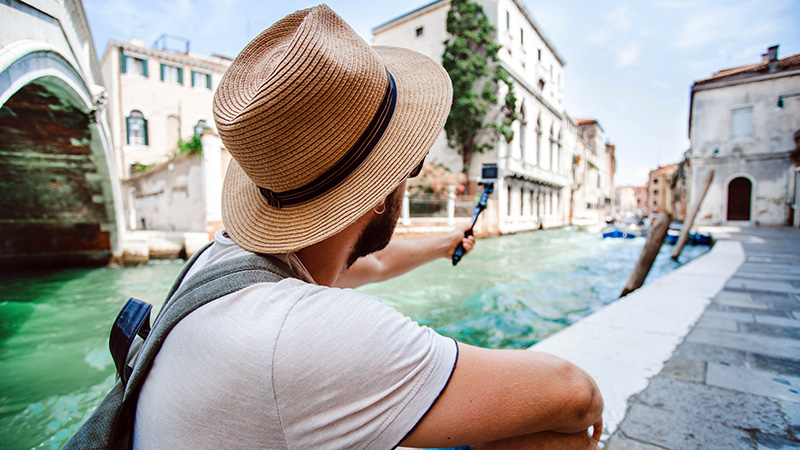 Action cameras
Lots of the Digital Eagles have an action camera, they're usually small cameras that often come with a robust waterproof case, allowing you to take great shots when you're doing fun things like skydiving, surfing or horse riding. Action camera features and prices can be quite varied and include brand names such as GoPro, DJI and AKASO.
They can be used for low impact activities too, like swimming or attaching to the dog on a walk! Lots of tech sites online compare the features of different types of action cameras to help you choose which one might be best for you if you've decided you want one.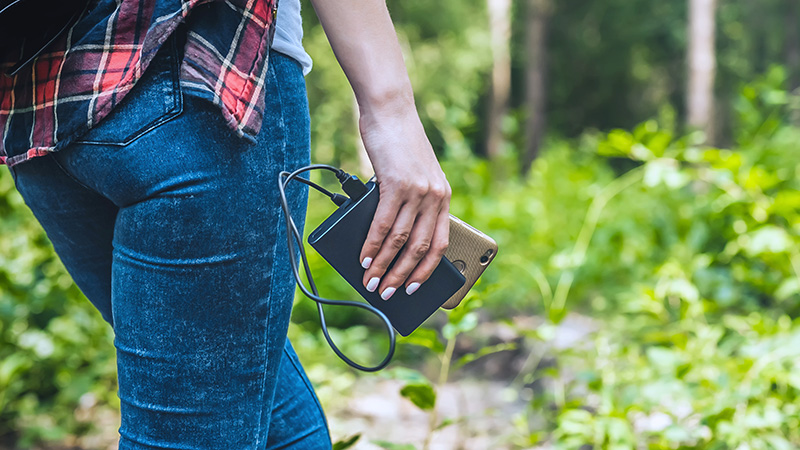 Powerpacks
You might need some gadgets on your holiday, like your phone, camera, or laptop. But they need power, and you might not find a place to charge them. A power bank can help you with that. It is a small device that can give power to your gadgets with a USB cable. You don't need a plug or an adapter. A power bank is useful if you go somewhere far away, or if you travel a lot. It doesn't take much room in your bag, and it can keep your gadgets working when you need them. Just charge it before you go, and have a nice holiday.
Practical preparations for your trip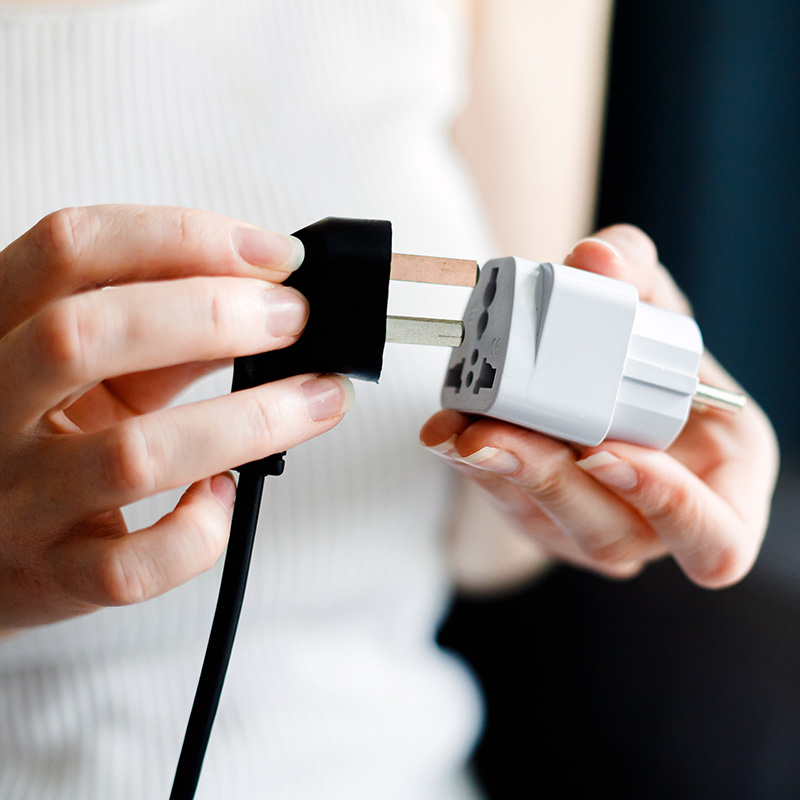 Plug it in
Make sure you've got all the charging plugs and cables you need. If you don't have lots of travel adapter plugs, you could just take one and an extension cable, ideally one with USB charging points, to help you save a bit of space in your luggage.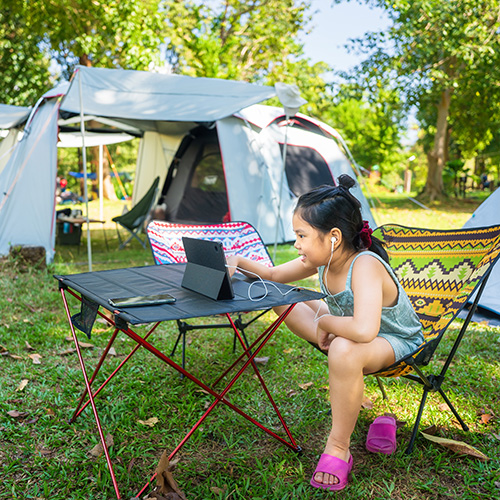 Download your favourite shows
You might want to watch a show or listen to a podcast on your holiday. But the internet might be slow or expensive. So download your shows before you travel.
Then you can watch or listen to them anytime, without the internet. You can also save battery by turning off your Wi-Fi or mobile data. Just charge your device and bring your headphones.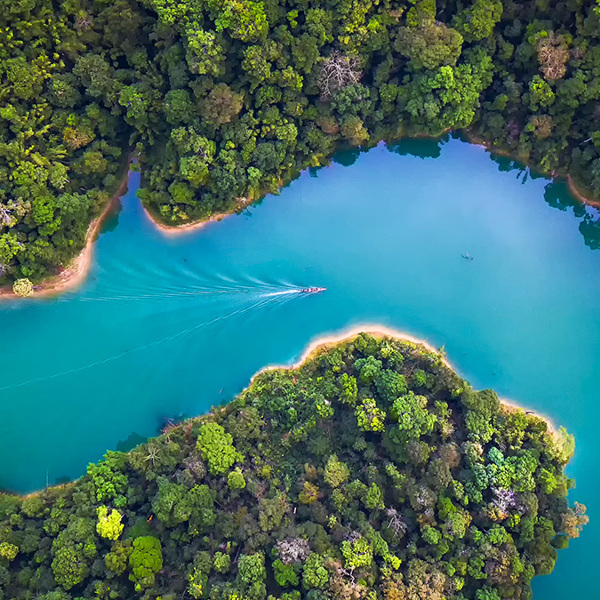 Offline maps
Going somewhere new? Find a map of the area you're visiting and download it so you can look at it 'offline'.
Internet connectivity might not be great, and it can get really slow if you're in a busy tourist area when you're travelling, so having a map you can look at without buffering could help you avoid getting lost.
Protecting your tech on holiday
It can be easy to let your guard down a bit when you're on holiday, but it's important to remember to take care of your tech when you're away. Here's some of the ways the Digital Eagles keep their devices safe when they're away:
Lots of modern smartphones have an element of water resistance, but if you don't want to put it to the test, you might want to think about getting a waterproof case for it. This can help prevent sand and saltwater getting into the nooks and crannies of your device and enable you to take pictures in the water without the need to invest in an action camera. Remember to check reviews carefully before you buy though.
Don't forget to check if your devices are covered by an insurance policy. If you've got separate cover for your tech, remind yourself of what the policy covers before you travel and make sure you take every precaution you can to keep it safe, like using a safe in your room if available, not leaving it on the table of a restaurant, and using the inside pockets of jackets or bags.
You could use tracking devices on your bags to help find them if they go on their own little adventure. There are lots of devices available but remember to check airline guidance if you're planning to use one in checked luggage to make sure it's allowed.
Digital Eagle quick tips
Download and familiarise yourself with apps from your travel provider, hotel or resort. Using them can help you find your way around, avoid queues and even book restaurants.
Use review sites before you go and when you're away. Trip Advisor and Facebook reviews can give you a good idea of places to go, and what to expect, helping you to plan your trip better.
Don't forget to take things for the kids if you're travelling with them! Download twice as many games and videos for them to watch or play with than you think you'll need, pack their headphones and don't forget to set up parental controls to stop them from spending money online or downloading content you don't want them to access.
Don't get tongue tied
Use a translator app to help you order the things you want in restaurants or ask for directions, there are lots to choose from in your app store. Features include being able to type words into the app, or speak directly into your phone's microphone with the app open so it can translate for you, and you might even be able to use your camera to take a picture of a sign or item on a menu you don't understand to be translated. It could also be really helpful if you've got a food allergy and need to be clear when talking to restaurant staff. Take a look in your app store and see which one might work best for you.
The final thing to remember when travelling is to have fun and stay safe. If you've missed the first two blogs in this series, you can find them here and here.