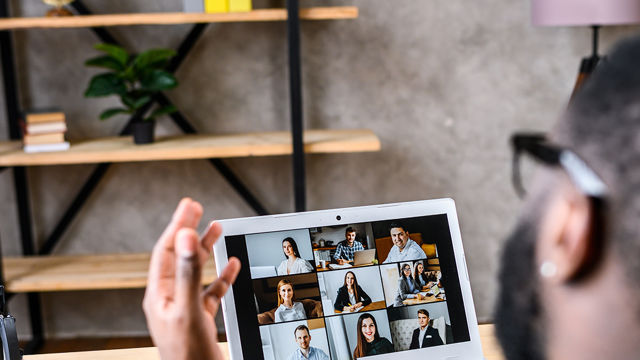 Events
Terms and conditions
Terms of Use for provision of Events
We look forward to welcoming you to our events which may be hosted either virtual or hybrid (Hybrid - streamed into a location such as local library, Barclays Branch. Community centre, School, webinar etc. To attend the Event, you need to agree to these Terms of Use. Please read them carefully before you book your Event
1. Who we are and how to contact us
Events and the Digital Eagles are run by Barclays Bank UK PLC ("we", "us", "our" or "Barclays"). We are registered in England and Wales under company number 9740322 and have our registered office at 1 Churchill Place, London E14 5HP. We are authorised by the Prudential Regulation Authority and regulated by the Financial Conduct Authority and the Prudential Regulation Authority (Financial Services Register number: 759676).
2. Acceptance of the Barclays Terms of Use
References to "you" or "your" are references to any individual or business attending an Event. If you will be attending the Event on behalf of an entity (such as on behalf of your employer), you agree to these Terms of Use on behalf of that entity and you represent that you have the authority to do so. In such case, "you" and "your" will refer to that entity as well as yourself. These Terms of Use and all disputes, claims, controversies, disagreements, actions and proceedings arising out of or in connection with these Terms of Use ("Proceedings") are governed by English law and you hereby irrevocably submit to the exclusive jurisdiction of the English courts in relation to such Proceedings.
These Terms of Use govern your attendance at an Event and associated use of the relevant Barclays Eagle Lab if the Event is hosted there. By booking an Event through Eventbrite you are deemed to accept and be bound by these Terms of Use. The Terms of Use will remain in effect from the time you sign up to an Event until the end of the Event or cancellation in accordance with these Terms of Use.
If you do not agree to these Terms of Use, you should not attend the Event.
3. Defined Terms and other terms that apply to you
In these Terms of Use, the following capitalised terms have the following meanings:
"Affiliates" means, in relation to a party to these Terms of Use, any person or entity Controlling, Controlled by or under common Control with such party, for the time being where "Control" means the power, direct or indirect, to direct or cause the direction of the management and policies of such entity whether by contract, ownership of shares, membership of the board of directors, agreement or otherwise (and the terms Controlling and Controlled shall have a corresponding meaning).
"Applicable Anti-Bribery Law" means any bribery, fraud, kickback, or other similar anti-corruption law or regulation of any relevant country, including the Bribery Act and the US Foreign Corrupt Practices Act of 1977.
"Applicable Law" means any statute, enactment, ordinance, order, regulation, guidance or other similar instrument in the jurisdiction of England and Wales (including but not limited to any Applicable Anti-Bribery Law), which relate to the performance of this Agreement.
"Good Industry Practice" means the exercise of degree of skill, diligence, prudence and foresight which would reasonably and ordinarily be expected from a skilled and experienced supplier engaged in the provision of training services under the same or similar circumstances.
"Force Majeure Event" means any fire, flood, earthquake, act of God, war, governmental act, riot, civil disorder, rebellion or revolution or any other event of a similar nature beyond a party's reasonable control.
"Intellectual Property Rights" means patents, trademarks, service marks, logos, trade names and business names, copyright (including future copyright), database rights, designs, rights in and to confidential information (including know how, business methods, data and trade secrets) and all other intellectual property rights, in each case subsisting or pending at any time in any part of the world and whether registered or unregistered.
You will have also agreed to the terms of use and privacy policy for Eventbrite ("Eventbrite Terms"), which apply to you in addition to these Terms of Use. The Eventbrite Terms will determine your rights and obligations in relation to your use of Eventbrite as well as our right to use your information (including any personal data), which you have provided via Eventbrite.
In the event of any inconsistency between these Terms of Use and the Eventbrite Terms, these Terms of Use will apply to the extent of any inconsistency.
4. Age restrictions and attendee participation 
All of our Events will either be hosted Virtually/ Hybrid. You can only register for an event if you are over 18 You can only attend an Event if you are over 18 (excluding Code Playground)
Each Event is intended to be attended by a number of other attendees and is designed to be interactive. The content of an Event may therefore be influenced by attendee participation. The presenter may focus on certain elements of the Event content as a result of such attendee participation.
5. Your confidentiality
Information that you share at an Event may be seen and heard by other attendees at the Event. 
You agree that we shall not be under any obligation of confidentiality to you regarding any information or content shared by you at an Event, unless agreed otherwise between us in writing or as required by law. You therefore agree that you will not share any information which is confidential or sensitive in nature.
6. Intellectual Property Rights and our confidentiality
All Intellectual Property Rights belonging to a party to these Terms of Use prior to the execution of these Terms of Use shall remain vested in and belong exclusively to that party. Nothing in these Terms of Use shall be taken to be a transfer or assignment of or an agreement to transfer or assign any such Intellectual Property Rights to the other party. Neither party shall be entitled to use any of the other party's Intellectual Property Rights other than as expressly set out in these Terms of Use or as otherwise agreed in writing.
At an Event, we may provide you with or display to your certain software technology, documents, intellectual property and/or other material, information and content (i) created by or owned by us or (ii) owned by a third party ("Content"). The Content is provided to you solely for your own use in order to receive the benefit of attending the Event and is not intended to be relied upon by any other person. 
We grant to you a non-exclusive, royalty free, non-sub-licensable licence other than to your Affiliates to use our Intellectual Property Rights in the Content, for the purposes of your attendance at the Event only. We have the right to terminate this licence if you use our Intellectual Property Rights in any manner not permitted in these Terms of Use. 
To the extent the provision of the Event involves our use of your Intellectual Property Rights (if any), you hereby grant to us a non-exclusive, royalty free, perpetual, irrevocable, non-sub-licensable (other than to our Affiliates and subcontractors), transferable licence, to our Affiliates, to use such Intellectual Property Rights. 
So far as we are aware, all Intellectual Property Rights made available to you in the Content will not infringe any Intellectual Property Rights of any third party.
You agree to not redistribute, disclose, disseminate, syndicate or provide access to the Content in electronic or any other form to any other third party, except (i) to your Affiliates in order to receive the benefit of the Event, where you have provided that Content subject to non-disclosure obligations that are no less onerous than those set out in these Terms of Use, (ii) where such Content is publicly available prior to the Event, (iii) was in your lawful possession prior to the Event, (iii) becomes available to you after the Event from a third party otherwise than through a breach of confidence owed to us, (iv) is independently developed by you (where you can evidence this), or (v) is required to be disclosed by law or governmental regulation or by any competent body or authority or authority to which you submit (provided that you notify us as early as possible before making such disclosure and take all reasonable steps to avoid disclosure).
7. Our responsibility for loss or damage suffered by you
We do not exclude or limit in any way our liability to you where it would be unlawful to do so. This includes liability for death or personal injury caused by our negligence or the negligence of our employees, agents or subcontractors and for fraud or fraudulent misrepresentation. Neither party limits or excludes its liability under paragraphs 6 (Confidentiality) and 7 (Intellectual Property Rights) of these Terms of Use.
We will not be liable to you for any indirect or consequential loss or damage. In particular, where applicable, we will not be liable for:

loss of profits, sales, business, or revenue;
business interruption;
loss of anticipated savings; or
loss of business opportunity, goodwill or reputation.

To the extent permissible by law, we exclude all implied conditions, warranties, representations or other terms that may apply to the Event or any Content provided to you. The Event is provided "as-is" without any warranty, representation or assurance of any kind. We will however provide the Event to you with all due skill, care and diligence in accordance with Good Industry Practice and Applicable Law.
We will not be liable to you for any loss or damage, whether in contract, tort (including negligence), breach of statutory duty, or otherwise, even if foreseeable, where this arises under or in connection with:

Eventbrite or any associated payment platform; 
your attendance at, or inability to attend, the Event; 
your contact with other attendees at the Event, or the actions of other attendees at the Event; 
our cancellation of an Event except any refund of some or all of the Attendance Fee provided in accordance with these Terms of Use; 
any inaccuracies, omissions or errors in the Content;
your use of or reliance on any Content provided at the Event including any financial, investment and business decisions or any specific courses of actions you choose to make or not make, as a result of attending an Event or any Content presented at an Event;
your use of the Content other than in accordance with paragraph 7 of these Terms of Use (Intellectual Property Rights); or 
the suitability of the Event for your intended purposes.

You understand and agree that the Event and Content is not intended to be advice (whether legal, financial, business, tax, accounting or otherwise).
To the extent permitted by law, our maximum aggregate liability to you in respect of an Event is limited to the Attendance Fee you have paid to us in respect of that Event.
8. What else you need to know
Changes to these Terms of Use
If we need to change these Terms of Use and we consider that the change will affect you negatively, we'll tell you about the change in advance. If it's a change that we consider will benefit you or that won't affect how you access the event, we'll tell you after we make the change. 
When there is a change, we'll update the Terms of Use on our website and we may also send you an updated Terms of Use by email. If we need you to agree to a change, we may ask you to confirm your acceptance of the change prior to attending an Event.
Cancellation of your attendance at an Event 
You are under no obligation to attend an Event. If you are no longer able to or wish to attend an Event, or you do not agree to these Terms of Use, you are entitled to cancel.
We may cancel the Event without prior notice for any reason, although we will always try to give you notice of a cancellation as soon as we are able to prior to the Event. 
We can terminate these Terms of Use or stop you from attending an Event if we reasonably believe you have seriously or persistently broken any of these Terms of Use (or any terms referred to in these Terms of Use) or we have reasonable grounds for thinking that you have done any of the following things, which you must not do (and which will also be a material breach of these Terms of Use):
You put us in a position where we might break any Applicable Law or other duty that applies to us or you do not obey with any Applicable Laws that apply to you; 

you give us any false information at any time; you do anything which, in our opinion, is likely to or does cause harm to our reputation;
you commit (or attempt) fraud against us or someone else;
you inappropriately provide someone else with access to the event
you behave in a threatening, disruptive or abusive manner to our staff or other users; or
you fail to comply with any direction given by our staff.

Any termination or expiry of these Terms of Use shall not affect any accrued rights or liabilities of either party or the coming into force or continuation in force of any other clauses and provisions of these Terms of Use which are expressly or by implication intended to come into force or continue in force on or after termination or expiration. In particular, paragraphs 4, 6, 7, 8 and 9 shall continue in force and survive cancellation or expiry of these Terms of Use. 
Queries and complaints
All queries and complaints should be directed through Eventbrite.
General terms 
These Terms of Use will not be deemed to create a partnership nor shall they constitute either party as the agent of the other party for any purpose. 
Nothing in these Terms of Use will create any right enforceable by any third party who isn't a party to the Terms of Use and the Contracts (Rights of Third Parties) Act 1999 shall not apply.
Other than any agreement for financial services provided by us to you, these Terms of Use constitute the entire agreement and understanding between us and you. All other prior agreements, arrangements and understanding are superseded by these Terms of Use.
Without our prior written consent, you shall not: (a) use our name or any other identifier for us (or our Affiliates), or (b) refer to or identify us (or our Affiliates) in any publicity releases or promotional or marketing materials. Any wording needs to be approved by us.
We may refer to or identify you (and where applicable, the business you represent) in any publicity releases, interview, promotional or marketing materials, public announcements, customer listings, testimonials or advertising to disclose the identity of you as having attended our Event. 
We may need to sub-contract our rights and obligations under these Terms of Use. We won't seek your permission to do this.
Both us and you may assign or replace any or all rights and obligations under these Terms of Use to each of our Affiliates or to the successor to all or some of each party's business, on the condition that a written undertaking is provided by such Affiliate or successor to comply with these Terms of Use. Other than as set out above, neither party may assign, transfer, sub-contract or otherwise deal with its rights and obligations under these Terms of Use without the other party's prior written consent. 
If you need to get in touch with us in relation to any notices or consents under these Terms of Use, please contact us via Eventbrite. If we need to get in touch with you in relation to any notices or consent under these Terms of Use, we will contact you at the email address you provided through Eventbrite.
Neither party will be liable to the other for any delay or non-performance where that arises from a Force Majeure Event. Where performance is not resumed within 30 days of such event, the other party may terminate these Terms of Use immediately by providing written notice to the other party.