A guide to using your smartphone to stay safe when travelling
If you're day tripping, or heading further afield, in this blog we share some of the ways your smartphone could help you stay safe on your travels.
Digital technology can be helpful when planning a day trip or holiday, from researching where to go, booking travel, and sharing reviews when you return.
We've written a mini-series of travel related blogs where we'll be sharing some of our favourite hints and tips for you to try when you're planning your next getaway. 
 In this first blog, we'll share some of the ways your smartphone could help you stay safe on your travels. Not only can you use it to help you find the best spots to visit, but you can also use it to keep up to date with changes to the weather, avoid getting stuck in traffic and even get help if things go wrong. 
Use digital maps to plan ahead, stay on track, and let people know where you are
Using your smartphone to plan your journey can be helpful. There are lots of different travel apps to choose from such as Google Maps and Waze that let you plan a trip, give you traffic updates and help you find places to stop on your way like petrol stations, restaurants and points of interest. They usually have the option for different modes of travel too, so if you're planning a walk or bike ride, you'll be given different options to take using footpaths or cycle routes instead of busy roads. 
Other maps available include Ordnance Survey, Strava and AllTrails which are examples of navigational maps designed to help you plan and navigate an outdoor adventure – on foot, bike or by car. These types of map apps can help plan routes that take things like terrain information and elevation levels into consideration. You can also save journeys you've taken or follow a course someone else has completed too. 
Before you travel, it could be helpful to know how maps can help you on your trip with the following: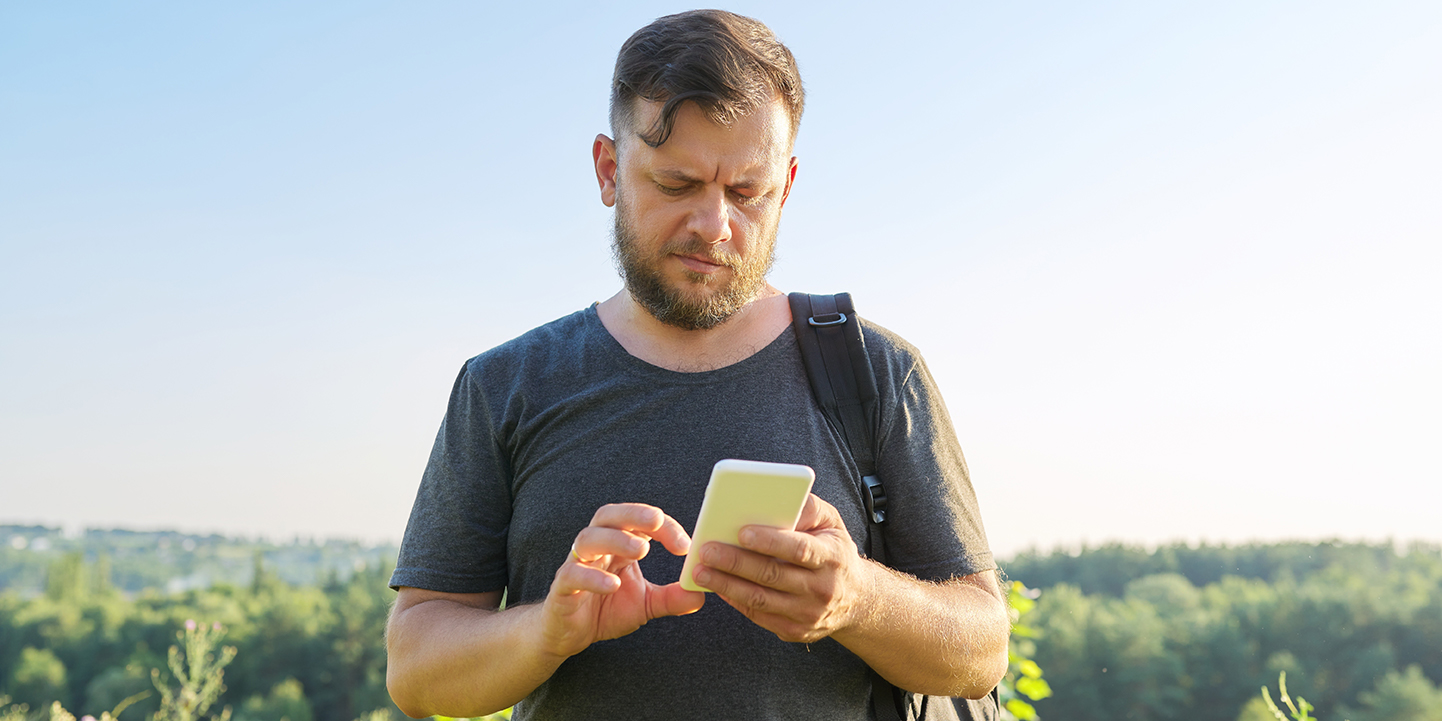 Sharing your location – If you're planning on a solo adventure, or you get split up from the group you're travelling with, being able to share your location can help reunite you. Some map apps let you do it through their platforms, but both WhatsApp and Messenger let you share your real-time location via a message too.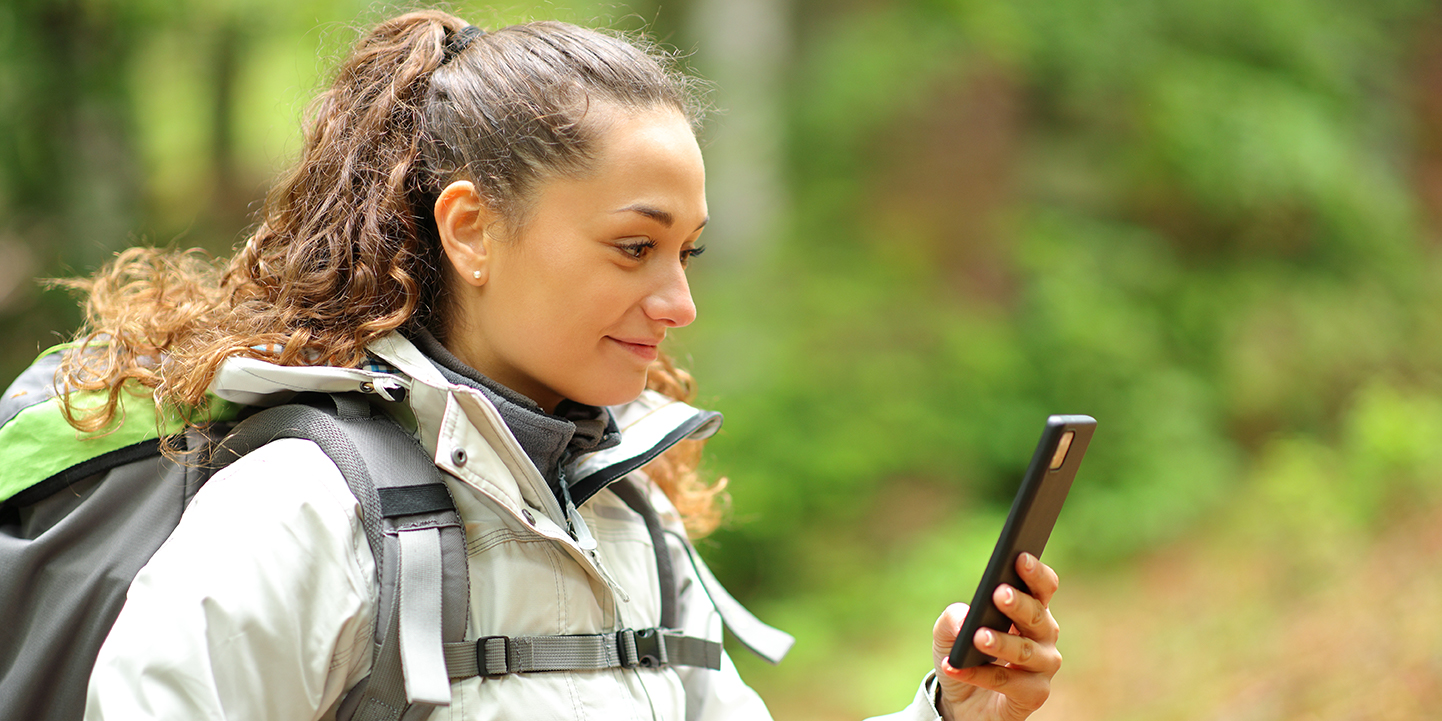 Offline maps – If you're not sure what the signal is going to be like on your travels, it could be helpful to save your map of the area you're visiting offline so you can view it without the need for signal or using up your data. This can vary between applications, so check 'offline maps' for the map app you've chosen and follow the instructions.
Get help

and stay informed using your smartphone

You can still make emergency calls if you're in an area where you don't have signal coverage.  Your phone should be able to connect to an emergency operator using a network that does have signal if one is available. Some of the other ways you could use your phone to help you if you're in trouble include: 
1. Emergency contacts
It's a good idea to have emergency contacts set up even if you're not planning a trip. The Emergency Call feature on your smart phone's locked screen brings up a dial pad you can use to either key in the number for the emergency services, or a number you remember. This means you can make a phone call without unlocking your phone. You can also save contacts and medical details for use in an emergency. 
2. what3words
what3words is an easy way tell someone your exact location. It's divided the world into 3 metre squares and gives each square a unique address made of three words. For example, if you've arranged to meet your travel companions at the airport, using what3words could help you find each other. In an emergency, you can use the free what3words app to tell emergency services exactly where to send help. 
3. Translator apps
If you're planning a trip abroad, you might want to go prepared a with a translator app that can help you with things like ordering food and taking part in activities. You can also use it if you get into trouble and need to ask for help quickly, with less confusion. 

4. Travel provider apps
If you're travelling with a company, such as an airline, travel agent or bus company, they could have an app you can download before you travel. This can be used to store your travel details and tickets and will usually keep you informed of any changes to your planned journey, giving you advanced warning if your journey has been delayed or cancelled, or any other alerts like severe weather or other incidents you might need to be aware of.
5. Get in touch with loved ones
If something happens when you're away, like a natural disaster, explosion or major traffic incident, your family at home might know about it before you do. Sometimes in these instances, social media sites activate a safety check feature which you can use to mark yourself as safe.  
6. Set reminders  
You can use your phone to set reminders and create alerts when you're out and about, from setting timers to reapply sunscreen to reminders for when you need to head back before it gets dark.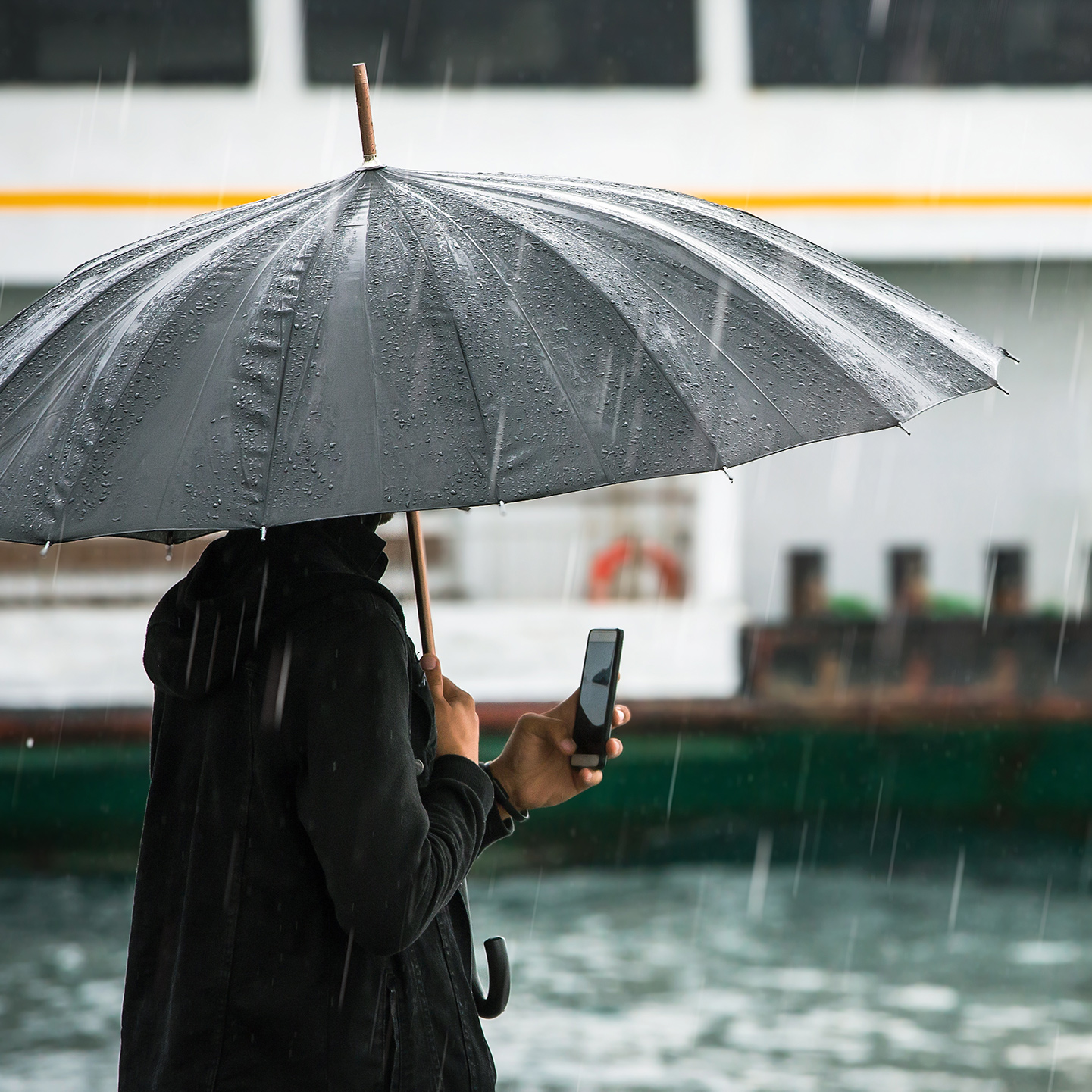 Get weather updates on the go 
Using a weather forecast app can help you plan whether you need to take sunscreen and flip flops, or wellies and a raincoat on your trip. Depending on the type of device you have, you might already have a weather app installed. If you don't like the one that's already built in, there are lots available to choose from in the app store that you'd usually use with a variety of options available, including the BBC Weather app, the Met Office weather app and AccuWeather.
Take a look at your app store to see some examples of others available and what might be best suited for you. 
Weather Apps can be simple or more detailed, and depending on the type of activity you're planning, extra information could be helpful.
Some of the things you might find useful on a weather app could include: 
Weekly/ten-day weather forecasts – these aren't always 100% accurate, but can be a good guide if you're planning to be away for several days and need to know what clothes to pack 
UV index – This gives a prediction of how much ultraviolet (UV) radiation is expected. The higher the UV index, the more damaging it can be. High UV can occur on colder days too, so if you tend to burn easily in the sun, it's a good idea to be aware of the UV index to help reduce your exposure 
Wind speeds – If you're planning to do something outside, like sailing, climbing or even going for a walk, high wind speeds could make a difference to your day. While essential for certain water sports and kite flying, strong gusts could be dangerous for other activities, and could result in cancellations of activities, so it's a good idea to check first if the activity you've planned is weather dependent 
Pollen count – If you, or someone in your group suffers from hay fever, you're probably familiar with pollen counts. Getting a rough idea of the pollen status for the location you're heading will help you take the right precautions to keep the itchy eyes at bay
Humidity –

Humidity is the measure of the amount of moisture in the air. When it's hot and the humidity is high, our bodies can struggle to keep cool, and we could run the risk of overheating. If high humidity is forecast, make sure you plan ahead and stay hydrated

 
Sunrise and sunset – Not only does knowing the time of sunrise and sunset help you plan to get some amazing pictures on your trip, but being able to get to where you need to be before it gets dark can be important to staying safe 
Air pollution - If you suffer from asthma or have other health conditions that are affected by poor air quality, being able to check information in real time on your smart phone can be really helpful when planning a trip in the 'fresh air'.
Lots of these examples have standalone apps too, so if you're looking for specific or detailed information about any of them, why not look in your app store to see what's available. 
Using your smartphone to stay safe around water 
If you're planning a trip to the sea or a body of water, it's very important to be aware of any hidden dangers, or things that could spoil your fun. Digital tools to help include: 
Tide reports - If you're wanting to explore areas that are only exposed at certain times, like exploring caves on the shore, or sandbanks that appear at low tide. An app that tells you up to date tide times can help you plan your adventure and avoid getting trapped or stranded. They can also help you find out when and where the best spots might be for water sports like surfing, paddle boarding or open water swimming. You might find tide times useful for activities with the kids too, like rock-pooling and crabbing. There are lots to choose from with varying levels of details, so check out the overview and reviews to pick the best one for you. 
Pollution – A big concern for many people when swimming in open water is pollution levels. The Safer Seas & Rivers Service app monitors water quality at over 450 river and coastal locations across the UK, providing live sewage updates as well as tide times, surf conditions, wind swell and more, so you can swim, surf, paddle or splash without the risk of getting sick. Find out more here. 
Water safety and beach flags – There are lots of hidden dangers to be aware of when heading to bodies of water. If you're off to the beach, it's a good idea to know what some of the flags flying mean, and if you're thinking about taking a dip in a local pond or lake, look at the Royal Society for the Prevention of Accidents (RoSPA) Water Safety Code for some top tips before you go.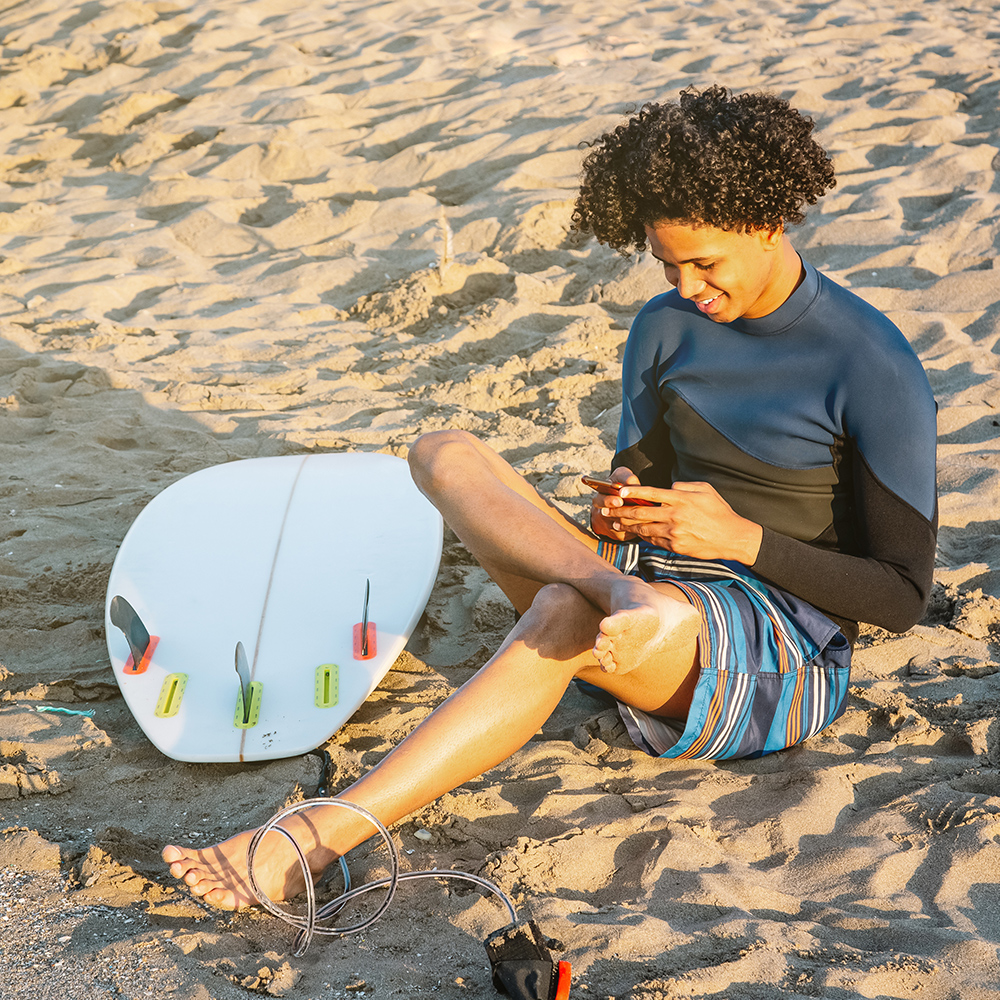 Keeping your device safe when travelling
In order to be able to use your smartphone to help you stay safe and have fun on your trip, it's essential that you keep your device safe. This could include: 
Be aware of your surroundings, it's easy to get distracted when you're visiting new places. Pickpockets are common in popular tourist areas, so keep your device hidden and don't keep it in a back pocket

Use built in tracking to find your phone. For Android devices - you can use '

Find my device

' when logged in and for iOS device you can use '

Find my

' app to locate your phone

Don't leave your phone unattended and try to avoid being distracted when you're using your device. This can happen easily if you're out for dinner or making a call in public

If you're planning a trip to the great outdoors, it could be worth investing in a good quality protective phone case to keep it safe from drops onto uneven ground, or into water. Check reviews thoroughly before you buy one, and double check that it's the right case for your phone.

 

In addition to this, it's worth reminding yourself of some of the ways to stay safe when using public Wi-Fi and creating strong passwords in this Digital Wings module.
Whether you're travelling alone or in a group of friends or family, you could use your smartphone to help your next trip go to plan. So, if you're planning a trip, don't forget to use your smartphone to help you. 
Come back soon for the next travel blog in the series, as the Digital Eagles share some of  their digital tips for planning trips and using technology to get the most of of their time away.