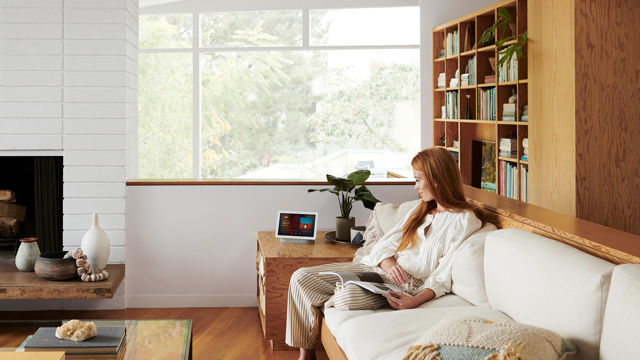 What is a Smart Home?
Are you considering making your home a smart home? Read our guide to learn what you need to know about smart home technologies, the associated pros and cons and how to set up your smart home.
What makes a home 'smart'? Once upon a time it would have been the way it looks, like having a white picket fence, a neatly mown lawn, or a freshly painted front door. Not anymore – a smart home is a digital home, capable of doing some really clever things to help the people who live in it. Smart homes can help manage your lighting, heating and even your home security.
If you're thinking about introducing smart home technology into your home, there's something to suit a range of budgets and needs. Keep reading to find out how smart homes work and how you could make your home smart.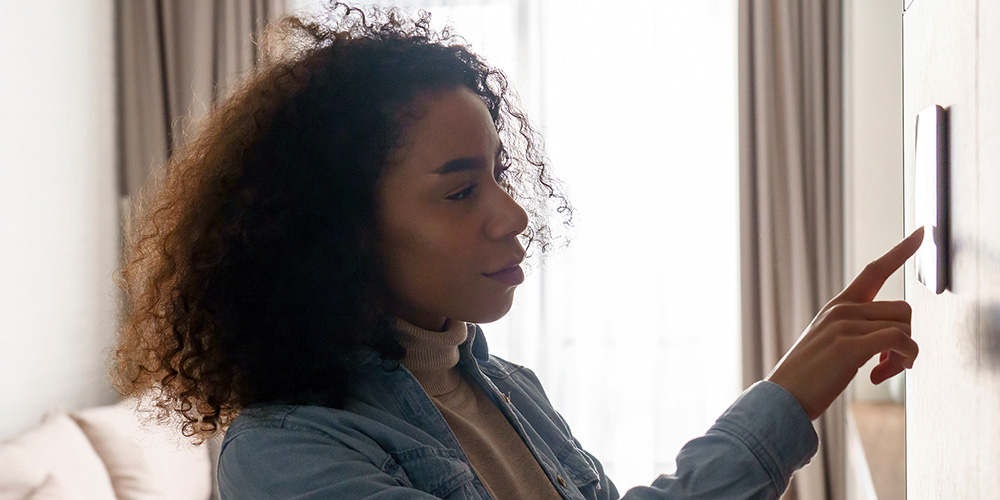 What is a smart home?
A smart home is a home that has devices in it designed to make your life easier, but it's the way this technology is controlled that makes your home 'smart'. Smart tech is usually connected, monitored and controlled by your smartphone or computer, and you'll need to be connected to the internet for it to work properly.
There's a wide range of smart home technology available, including speakers, doorbells, and lighting. Each of these could have different methods to control them, including remotes, voice commands or apps.
What is smart home technology?
Smart home technology – also known as home automation or domotics, works as part of the Internet of Things (IoT), which is the term used for everyday items or 'things' that connect to each other, or other smart devices, using the internet. You can find out more about the Internet of Things and the different types of technology that make use of it in this module. 
Smart home technology doesn't just make your life easier, you could also use it to help you feel more secure in your home or save money on your energy bills.
If you have a smart system that helps you keep track of and control your gas, water or electric usage, you can ensure you're only using what you need to. You might be able to do things like switching the heating on in just the rooms that need to be heated, turn the lights off when you're out, and they can alert you to switch off high energy devices when they're not in use.
Smart home technology can be used by almost anyone, but some people are worried that it's a bit complicated or expensive to implement.
Whilst it can be pricey to install a smart heating system, or fully smart home from top to bottom – there are devices available to get you started that won't cost the earth. Some of the most popular smart home gadgets available are speakers, doorbells and lighting. All of these are available to suit a range of budgets. Make sure you use a trusted website to do your research before spending your money.
Examples of smart home technologies
Almost all aspects of home technology have undergone a smart upgrade, take a look at just a few of the types of smart home technology currently available:
Smart speakers: you can use smart speakers to help you with a wide variety of tasks to make your life easier, including playing music, setting reminders and answering questions. They can be used on their own or with others dotted around the house
Smart TVs: also known as connected TVs (CTV), these are televisions that connect to the internet to give you access to online content, such as films, video games and music
Smart lighting: this can be used to provide the right level of lighting inside depending on the light outside, or you could program it to only switch on when it senses people in the room. Smart light bulbs often work with an app on your phone using voice commands or a tap of a button – so if you get into bed and realise the landing light is still on, you won't need to get up to switch it off! Some light bulbs can omit a range of different colours too, making it easy to change the mood of your home whenever you want.
Smart heating and thermostats: although standard thermostats for the home are programmable, smart heating can make your heating even more efficient, by doing things like only heating the rooms you need to at the touch of a button, or alerting you to a cold draught. You'll have access to reports on the energy you've been using too.
Smart security: this type of smart technology can give you real peace of mind and confidence in your home. Smart locks allow you to come and go from your home without the need for a physical key which is perfect if you're forgetful and worry that you've not locked the door on the way out. Smart security cameras and smart doorbells can be really useful too – you can see what's happening outside your home from wherever you are. Depending on the device you have installed you might be able to speak to anyone who's outside – including delivery drivers, door-to-door salespeople and even people trespassing.
Smart kitchen appliances: the kitchen is known for hosting a variety of helpful culinary gadgets, but unlike the bread-maker that was banished to the back of the cupboard in 2006, the technology available now is probably going to be more than a flash in the pan.
- Smart refrigerators keep track of the items in it, telling you when things are past their best, what to add to your shopping list, and even help you out with recipe ideas.
- Smart coffee machines can prepare you a hot drink just the way you like it as soon as you reach the kitchen by using voice controls or through the corresponding app.
- Your laundry is covered by smart technology too, smart washing machines and dryers can help by doing things like selecting the correct program for your washing once you've given it a bit of information, only using the perfect amount of detergent,    and notifying you of any problems straight to your app.
Smart gardening: It's not just inside your home where smart tech can help make your life easier, there are lots of tools you can use in the garden too. These include greenhouses that heat and ventilate to the perfect conditions for your plants, watering systems that detect moisture levels and water only when necessary and switch off when finished, and even lawnmowers that trim your lawn to the perfect length as soon as it needs it – all without you needing to get off your sun lounger.
There's lots more smart technology available for jobs around the home, just think of a piece of tech you currently use at home then do a quick search online for a 'smart' version of it. You might be surprised with what you find. You can learn more about how to use smart technology in this module. 
How to set up a smart home
There's a wide range of smart home technology to choose from, but if you're just getting started, you might not be keen to spend a lot of money. Fortunately, there are lots of simple to use budget gadgets available to help you get to grips with it first. You can then build on your collection if you want to. Lots of smart home technology can work alongside different brands too, but double check before you make a purchase to see what you'll need.
You can often find some of this tech available in supermarkets and popular hardware stores on the high-street, so you don't have to rely on online shops or electrical stores. It's always best to do your research first using websites you trust to check for reviews and to make sure that the device you want to install in your home will be compatible.
Think about what you might find useful in your home. Do you have a pet that you'd like to keep an eye on when you go out? You could install a smart camera and feeding station, or if you might just want to keep it simple and install a smart plug that helps you control things that are plugged in – like a heated towel rail, or your hair straighteners, so you can make sure they're definitely switched off when you're out.
Building a smart home can be fun, and it might even save you some money!
Smart home pros and cons
As with most technology that uses the internet, there are always aspects that need to be considered, so let's take a closer look at some of the pros and cons of smart home technology: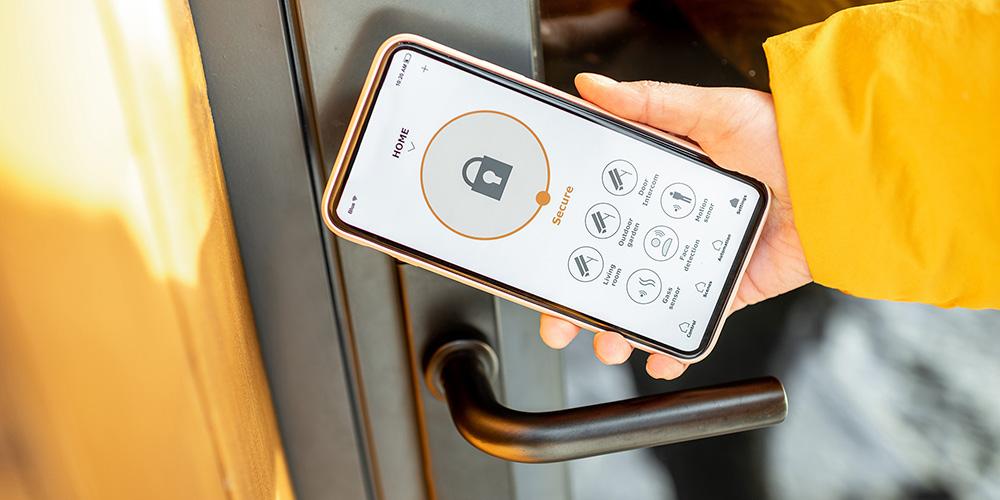 Advantages of smart homes
Convenience:
Voice control is hands free, home systems can be monitored from anywhere, and you can turn things on and off using an app remotely to save time.
Potential to improve energy efficiency:
Smart home technology can ensure you only use the energy you need, helping to save the planet and your pocket at the same time.
Enhanced home security:
Check what's happening inside and outside of your home even if you're not there. Check the doors and windows are locked remotely. Be alerted to possible problems such as smoke or carbon monoxide even if you're not home. Switch on lights to make it look like your home if you're out later than expected.
Improved accessibility for elderly and disabled people:
Smart home technologies can help older people and those with disabilities to live more independent lives through the use of voice activated smart home technology to turn on particular equipment, unlock doors, or set reminders. Some devices can even call for help if needed.
Disadvantages of smart homes
Smart home complexity:
Some devices and systems can be complicated and the instructions aren't always clear, and not all smart home devices are compatible with each other which can be frustrating. With the rapid developments in this type of technology, there's a chance that your device could become obsolete quicker than you'd like too.
Expense:
Smart home technologies can be expensive, if you decide to make your home totally smart, or only use top of the range devices, the costs can really add up. As with any large purchase, make sure you do your research first.
Reliance on internet connectivity:
Smart home systems tend to rely on internet connectivity, and some require a constant internet connection, which isn't always possible in every home. Sometimes they don't always perform as expected, as things like WiFi strength and power levels could cause your smart device problems.
Smart Home Security weaknesses:
As with many digital devices, it's possible for criminals to gain access to your smart home technology. One of the most important things to do when installing your smart home technology is to follow the manufacturer's instructions, including updating the software in line with updates, and using strong passwords when required.
Getting started with smart home technology doesn't need to be expensive or complicated, and you don't need to dive straight in and install a complete smart home hub immediately. Have a think about what you might find helpful in your home to get started.
If you need any help getting to grips with smart home technology and want to learn more about how it works, you might find our smart home technology article helpful. You can access it immediately by signing up to Digital Wings for free today.