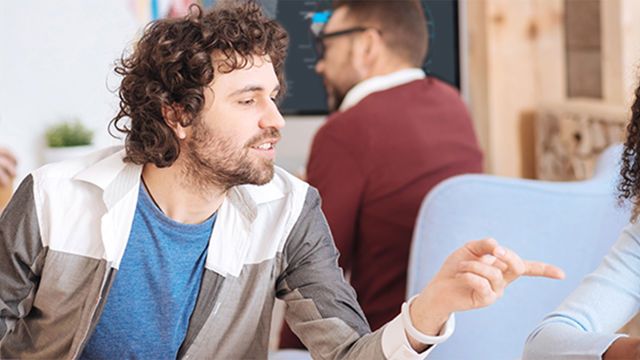 Ultimate guide to: Digital skills for the workplace
We are living in an age of rapid change with a huge demand for workplace digital skills. Read our guide to learn more about essential digital skills that are highly valued.
Research shows that 60% of businesses believe that their reliance on advanced digital skills is set to increase over the next five years. The Department for Culture, Media and Sport (DCMS) published a Digital Skills Gap report, highlighting a shortage in suitable digital skills in the UK labour market.
In this blog, we're going to talk about what workplace digital skills are, why they're important and some of the top digital skills in demand.
What are workplace digital skills?
Digital skills are any skills that allow you to be digitally literate. This can be as simple as having the skills to answer e-mails, or complex skills like being able to build coding websites – depending on your job or industry. The basic need for workplace digital skills has grown in recent years, as more industries are relying on technology. The digital skills gap however, tells us that specific workplace digital skills such as cybersecurity, social media and various business systems are in short supply.
Because levels of digital skills vary so much, it's important that job seekers know what employers are looking for in terms of digital skills. If you're looking for a new job, it's worth doing some research on the company before you apply, to find out what systems and apps they use, and therefore what skills you might need.

Importance of digital skills in the workplace
Businesses are now becoming more reliant upon digital technologies, so it's important to have the right digital skills in the workplace to effectively use them. Having the right digital skills is not only essential for employers, it also has significant benefits for workers.
Research from the digital skills gap shows that by having specific digital skills, such as search engine optimisation for marketers, workers can reduce their risk of automation by a dramatic 59%. Digital skills also carry a large wage premium. Overall, roles requiring digital skills pay 29% (£8,300) over those roles that do not (£37,000 vs £28,700) with the premium increasing at higher skill levels.
What is digital literacy?
Digital literacy is defined by the UK government as skills needed by every citizen to become 'digitally literate'. These consist of skills needed to carry out basic functions such as using digital applications to communicate and carry out basic internet searches, as well as an understanding on cyber security.*
The UK government recently launched the essential digital skills framework, covering the basics for digital literacy: The following list includes a number of essential digital skills for life, and additional skills that might be required in the workplace:
Communication

Setting up an email account and sending email
Using messaging apps to communicate with others
Joining and setting up video calls

Practical skills

Knowledge of different tools and software apps such as office programs like Word, Excel and PowerPoint.
Confidence in using productivity based apps such as digitally recording absence, holidays or expenses or managing a digital calendar.
Problem solving skills to find solutions to problems using digital tools and online search engines.

Data retrieval and storage

How to effectively use search tools to find and access assets such as images or videos online
Use external storage drives and copy documents and files from one place to another
Use an online storage account for collections and access these from other devices such as a laptop or smartphone.

Critical thinking and evaluation

Be confident using software such as spreadsheets to manipulate and analyse data at work
Use analytic tools to monitor things such as website usage spotting trends useful for making decisions.

Cybersecurity

Understanding and following organisational guidelines and policies such as login information and choosing secure passwords or social media policies
Knowing and following procedures to report suspicious emails and other activity to IT staff in your organisation
Identify safe sites by looking for a https or a green padlock
You can read more about the Essential Digital Skills Framework, and explore all of the digital skills listed here.

Top digital skills for the workplace
As technology changes, the nature of jobs is changing too, meaning there's an increasing demand for a number of different digital skills. Government research found there's a significant demand for example of data skills with UK companies recruiting for 178,000 to 234,000 roles requiring hard data skills.
Let's look at some of the top digital skills for the workplace:
1. Cybersecurity skills
Last year, the National Cyber Security Centre (NCSC), who support the most critical organisations in the UK, the wider public sector, industry, and the general public from cyber threats, handled an unprecedented 777 incidents last year, the highest on record. Cyber-attacks on organisations are on the rise, so companies need employees with cybersecurity skills to defend against this.
Data is now one of the most important resources in the world. It fuels the global economy, drives science and innovation and powers the technology we rely on to work, shop and connect with friends and family. With the introduction of GDPR regulations, both cybersecurity and data protection skills are an essential requirement for how companies operate successfully in a digital world.
2. Programming skills
Code, the language used to tell computer programs what to do, our digital world. Most modern technology, from smartphones, TVs to even some of our ovens need code to operate. As we rely more on technology, it's even more important that we need coding skills to keep up.
In particular, languages such as C++ and python are in a higher demand due to the increase in use of Artificial Intelligence (AI) and Machine Learning (ML).
3. Artificial Intelligence and Machine Learning
Much of the focus in Artificial Intelligence and Machine Learning is creating programs or software to make predictions and without being directly programmed to do so, such as whether to lend money to someone or an AI powered car making the decision to take another route as it's faster. These decisions are being trusted to AI without or with minimal human input. This requires a large amount of data to 'teach' the computer.
This is sometimes referred to as 'Big data'. This refers to data sets where the size or type of data is beyond the ability of traditional databases to either store, capture, manage, analyse or process the data. Due to this, the skills required for data processing and specific AI and ML programming is increasing.
4. Cloud computing
Cloud computing is on-demand access to IT resources over the internet. Now, instead of having to buy, own and service physical data centres, servers or computers, business are looking more to access other companies' infrastructure through the internet.
In fact, according to the Office for National Statistics, 42.5% of information & communication businesses purchased some type of cloud computing services in 2019, up from 28.5% in 2015.

How to develop digital skills in the workplace
Due to the shortage in some digital skills, it's important that employers understand what digital skills are required for their business and how they can play a part in upskilling existing staff. There are three main ways you can develop your digital skills for the workplace:
Self-paced learning
You can find helpful information online, making basic digital skills easier to pick up. By doing your own research, you can learn the skills you need in your own time and practice at your own pace. If you combine this with joining internet forums or communities, you can also work with professionals in your chosen field to help develop your learning more.
Free online courses
There are plenty of free online courses on the internet to help with digital learning, depending on the topic.
Digital Wings allows companies to register their employee's with a company code, tracking their learning and even creating curated learning pathways. For more information, e-mail digitalwings@barclays.com
Certificate programs
You can find some certified courses or programs online, either face-to-face learning or online learning that allows you to get in depth practical learning. These certifications will then be useful to put on your CV or help with getting a job.
| | |
| --- | --- |
| For more information, see our Digital Business courses. | For more on office skills, see our Microsoft 365 courses. |
Want to learn more? Register for Digital Wings