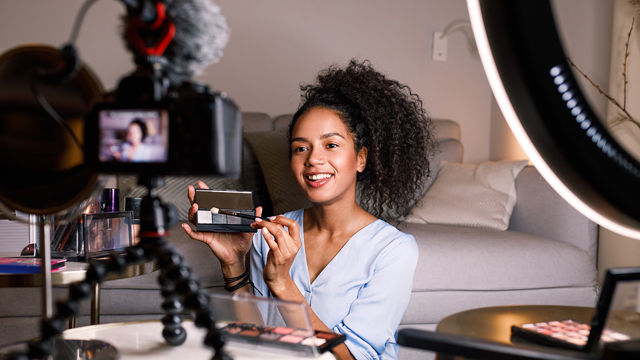 Beginner's guide to YouTube
Do you want to know how to get started with YouTube? Read our simple guide to learn how to create your YouTube account and upload your first video.
If you've ever wondered how to fix a leaky tap, learn a quick hairstyle, or wanted to laugh at cats being silly, then there's a high chance you're already familiar with YouTube and the wide range of videos available. If you've not used YouTube before, or you're curious about what else YouTube has to offer, you've come to the right place. In this blog we'll explain the basics of getting started with YouTube including how to create and upload your own videos and how to interact with others.
What is YouTube?
YouTube is an online video sharing platform, where individuals and businesses can share content easily to a (potentially) wide and varied audience. You can find an almost endless selection of content available, including tutorials, home learning, and music videos.
Originally designed by three Americans in 2005 to share home videos, YouTube now hosts both professional and amateur videos for viewers to enjoy. It has lots of additional features and versions you can use depending on your preferences, including a version for music only, one for live content, and there's a version designed especially for children. Only 10 months after its official launch, YouTube was bought by Google.
YouTube is a free to use platform, although there are some features available that could be chargeable, but as long as you're connected to the internet you should be able to view or listen to content on YouTube wherever you are at any time.
The latest user statistics from YouTube, show that it has over 2 billion monthly logged-in users from over 100 countries around the world, with people watching over a billion hours of video every day.
Before you get started with YouTube, it's useful to know a bit about their products and policies. Watch this short video to find out more:
How to create a YouTube account
You don't need to create an account with YouTube to access the majority of the content available, but like registering for Digital Wings – it's quick, easy and free. By registering for a YouTube account you'll be able to personalise the content you see, interact with other users and share your own videos too.
As YouTube is owned by Google, you'll need to create a Google Account.  If you've already got a Google Account, you can just use those details to log in to YouTube.
To create an account, you'll need to be over 18. If you're younger than that you'll need a parent or guardian's permission. Once you're signed in to YouTube, you'll be able to do all of the following: like videos, subscribe to channels, save favourites to watch later, report videos and get personalised video recommendations based on what you like and watch.
Unless you create a channel, you won't have a public presence on YouTube. If you want to upload your own videos, comment on videos or create playlists, you can create a YouTube Channel at any time.
This short video shows you how to get started with an account and how to create a YouTube channel:
How to Comment, Like and Subscribe on YouTube
Beneath every YouTube video on the platform you'll see a like (thumbs up) and dislike (thumbs down) button, and usually a comments section too depending on the settings the creator applied for their video.
Clicking Like:
Lets YouTube know that that you enjoyed it, which in turn helps the YouTube work out similar content you might like
Acts as a review – if there are lots of likes, it usually means it's worth a watch
Lets the creator know the video was well received.
Clicking Dislike:
Tells YouTube that you didn't enjoy the video, which will help YouTube control what you see around this subject or creators' channel
Tells other YouTube users the video wasn't well received
Help the creator know their content didn't provide enjoyment or what was expected.
Adding comments:
You can provide additional feedback to the creator (YouTuber) by adding a comment in the section. This can be particularly helpful if you gave it the thumbs down. You won't be able to add a comment unless you're logged in.
Subscribe:
If you've watched several YouTube videos, you might have noticed that a lot of them ask you to 'Like and Subscribe' at the end. Subscribing to a YouTube channel doesn't cost you any money, and you can unsubscribe whenever you want. If you've come across an individual or business that you're really enjoying, or finding useful, subscribing enables you to be alerted to new content and access their existing content easily.
When you click 'Subscribe' on your chosen channel, you'll be given some options on the alerts you receive, and the channel will appear on your home screen. You'll also be shown similar channels you might like to subscribe to in addition.
YouTube channels are collections of content made by creators. They can be made by individuals or organisations, with all the content stored together so that it's easy for viewers and subscribers to find their videos to watch in the same way books by the same author are grouped together in the library.
Your home screen will display recommended videos and channels generated from the ones you've watched and interacted with.
How to upload your first video to YouTube
Once you've created your channel, you're ready to upload your first video. YouTube have made this a simple process, here's a quick step by step guide:
Login to your YouTube account
Click the 'Create' button which gives you two options 'Upload video' or 'Go live'
Select 'Upload video' to be taken to the Studio
Drag and drop the video files you want to use
When the Details box appears add a title and a description of the video
Choose a thumbnail – pick an image for your video – this can be a still image from the video, or you can select a picture from your files if you'd prefer
Add your new video to a playlist if you've created any. You can create playlists and organise your videos at any time once you've started to upload more content
Select if your video is appropriate for children or not. You're legally required to comply with the Children's Online Privacy Protection Act (COPPA) and/or other laws. YouTube explain content made for children in this guide. 
After you've decided if your content is made for kids or not you can add an age restriction for viewers under or over the age of 18. You can add some advanced elements to your video.
Watch this short YouTube tutorial to show you the final steps to publish your video:
YouTube can be fun and informative, and hopefully this article has shown you that it's pretty easy to use it once you know how. If you're not sure what do at any point, you can just type your question into the search bar and there's bound to be a video to help you out.
Why not take a look at the Digital Wings guide to YouTube to find out more – including how to use more of the features on YouTube including YouTube Live, YouTube Kids and how to stay safe using YouTube safety features.
This is an independent article and is neither affiliated with, nor authorised, sponsored, or approved by YouTube. All trademarks are the property of their respective owners. There are other services available and Barclays does not specifically endorse or recommend the use of the services mentioned in this article.