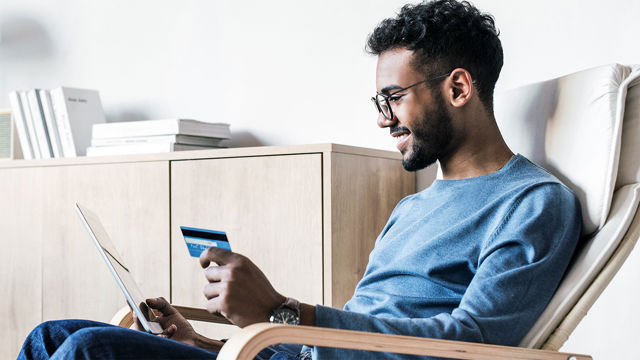 Beginner's guide to: Safe online shopping
Remaining safe and secure when shopping online is a concern for many. Read our guide to learn what you can do to remain safe and secure when making online purchases.
It's not always easy or convenient to get to the high street to do your shopping. Being able to shop online opens up lots of shopping options on your smartphone, computer or tablet. It's vital that you know how to stay when safe shopping online. In this blog we'll share some of our top tops to using online shopping sights, payment options for online shoppers available and the protection each of them offer, and what you can do if something goes wrong.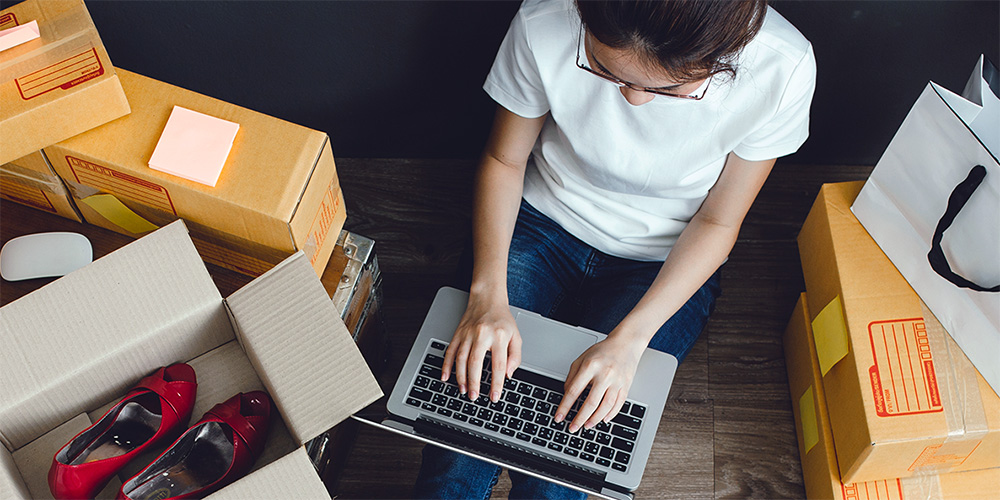 What is online shopping?
Sometimes referred to as e-commerce (electronic commerce), online shopping is the process of buying or selling goods or services using the internet – usually via a website or an app.
Many high street shops and supermarkets are online too, so when the shops are physically shut, you can still buy the items you need. You'll just have to wait a bit longer to get the item you're after.
It's not just high street stores you can browse for new things online, shopping platforms such as Amazon, eBay and Vinted are examples of shopping platforms you could use to find your next purchase – from clothing, to kitchenware, or even large purchases such as cars or furniture. Shopping online can be done anywhere and at any time as long as you have internet connection.
To start shopping online you'll need access to the internet, an email account (for your receipts and alerts about your purchases) and a payment method. There are a number of ways you can spend your money online including:
Debit cards: depending on the type of bank account you have, you might be issued with a debit card. The card is directly connected to the money in your account which you can use to make payments in shops online, over the phone or in person, and you can use it to take money out from cashpoints. Speak to your bank to find out more about the things you could do with your debit card and bank account. If you're a Barclays customer, you can find out more here
Credit cards: A credit card lets you borrow money to spend, up to an agreed limit (known as your credit limit), and pay it back later. You can either pay back the whole amount you've borrowed at the end of the month, or more if you can afford to.  If you only pay back the minimum amount required each month, it will take longer to fully clear what you owe and you'll pay more interest overall. Always try to pay off more than the minimum if possible.  Credit cards could also give you protection for goods or services that cost between £100 and £30,000. Find out more about credit cards and the protection they offer at Money Helper
Bank transfers: If you have digital banking, such as online or banking through an app, you might be able to make payments using a bank transfer. In this payment type, the money is transferred from your account to someone else, so you'll need the account details of the person you're paying. This can be handy if you're making a payment to someone you know, but if the person or business you're paying is unknown to you, make sure you're totally comfortable that the transaction is genuine.
Mobile payments: Mobile payments are payments made via your mobile device – usually your smartphone. You can store your card (debit or credit) on a digital wallet (e.g. Apple Pay, Google Pay, Samsung Pay etc.) and make payments via digital wallets. If you're making a payment in store or on Transport for London for example, all you need to do is tap your mobile device and use Touch ID or FaceID to authorise payments. As many of us tend to always carry our mobile devices it's a fast growing method of payment, and along with use of Touch ID or FaceID, it's a really secure method of payment too.
Buy Now Pay Later: When shopping online you've probably come across options to 'Buy Now Pay Later' (BNPL), this can be really tempting, especially if your bank balance is a little lower than you'd like it to be. It's a type of payment agreement which allows you to buy goods on credit and pay back the balance at regular intervals or within a certain time frame. BNPL can be useful, for example, by providing the chance to take up sale offers when you don't have cash available to pay there and then, but if you fall behind with repayment, then penalty fees and charges could soon mount up. Before signing up to any BNPL agreement, make sure you read the terms and conditions for repayments to make sure you can afford to repay the outstanding balance. Money Helper have written this comprehensive guide to BNPL.
Most e-payment companies such as PayPal usually have their own protection policies for their users, so it's worth checking these before signing up to understand your rights if something does go wrong.
It's worth remembering that paying by debit or credit card, or the website's recommended payment service, could give you more protection than a bank transfer. Do your research and read reviews to check the site and the seller are genuine – if the offer sounds too good to be true, it probably is.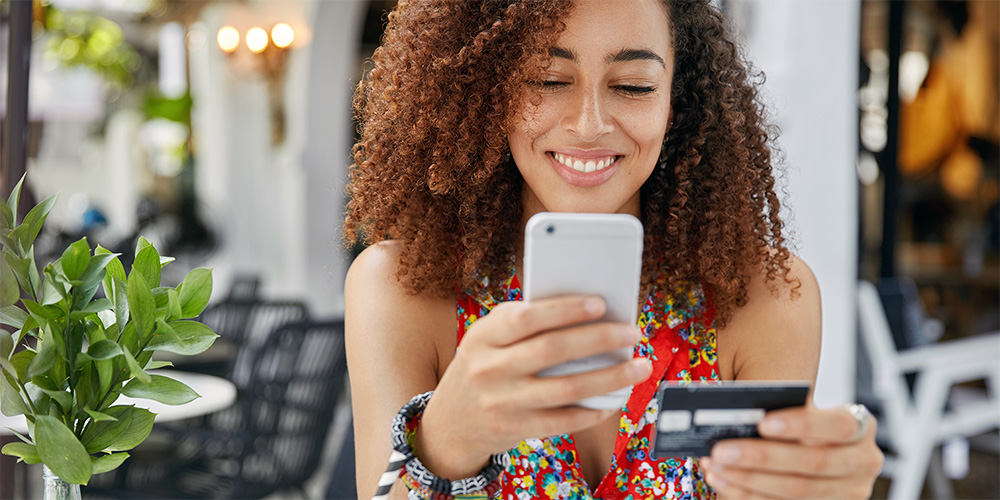 Risks of online shopping 
Online shopping has made it simple for us to get the things we need quickly and easily. We can compare items at different stores without ever having to leave the house and you don't have to worry about your wallet getting stolen by pickpockets, or wait in long queues to pay, but shopping online isn't without it's risks. When you shop online, you'll still need to keep your wits about you to make sure you avoid becoming a victim of online shopping scams especially during high pressure shopping times like holiday season, and Black Friday when cyber criminals prey on people looking for bargains, or trying to get hold of a must have item at a cut down price.
How to be safe when shopping online
You can help yourself stay safe by being aware of some of the tactics cyber criminals might be using. Here are our tops tips for safe online shopping:
1. Always use strong passwords
We use passwords online for lots of things: accessing your emails, shopping online, online banking, and much more. They offer us protection, so that your personal details stay personal.  It's these details that cyber criminals seek, so they can take advantage of your money, your identity and information that might be stored on your computer. If your password is weak, they could easily find a way to crack it.
Reusing the same password across different accounts can make you an easy target for cyber criminals, but keeping track of lots of different, complex passwords isn't always easy. A password manager can help you remember separate passwords for each of your different accounts. It's an application on your smart phone, tablet or computer that stores your passwords securely - so you don't need to remember them all. You'll just have to remember one password, the one to access your password manager.
You can find out more about strong passwords in this article.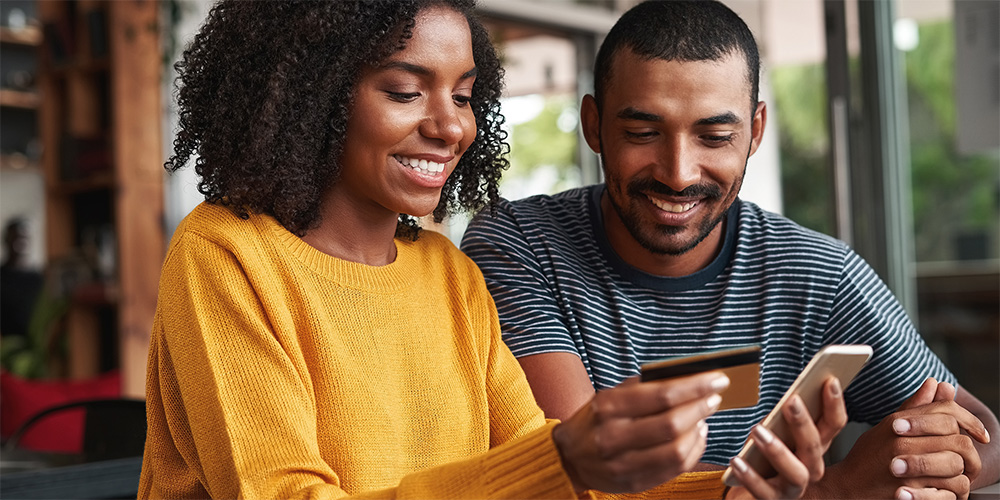 2. Only shop from secure, reputable websites
Shopping online, usually means paying online, so it's important to make sure the site is secure and safe to use.
Here are a few things to look out for:
Look for a small padlock symbol in the address bar at the top of the screen (it could be green or grey). The padlock should remain in the address bar regardless of which page of the site you're on.
You should also check that there's an 's' for secure included at the start of the web address, so that it says 'https' rather than just 'http'. The padlock and the 's' don't guarantee the site is genuine – they just tell you it's secure. But, they're a good start when trying to identify whether the site is safe to use.
Sometimes, you can spot a fake website from the language used. Check - are there grammatical errors and spelling mistakes?
Just like on the high street, shop with brands you know and trust. If you're shopping with a new shop, check reviews from trusted sites.
Just like the saying goes, "if it sounds too good to be true, then it probably is". Think about the amount you would normally spend – does this seem right?
Check out this Digital Wings article about saving money online safely. 
3. Avoid public Wi-Fi
It's best not to access your bank's website through a device connected to public Wi-Fi. Information you send using public Wi-Fi (like in a coffee shop or hotel) could be collected or intercepted by cyber criminals, who could read - or even change – important information, like login details, passwords or emails.
By using a secure Wi-Fi network – for example, one that's protected by a password, or your own data connection, information is encrypted, to help keep your information safe.
You should also avoid using public computers – in a library or other shared space - for online banking.  But, if you don't have a choice, clear the cache and cookies before you log off, remove any temporary folders on the device, and don't allow the computer to save your password or any other login details.
Equally, if you're using a shared computer at home or in the office, don't save your online banking passwords to the device and make sure you always log off when you're finished.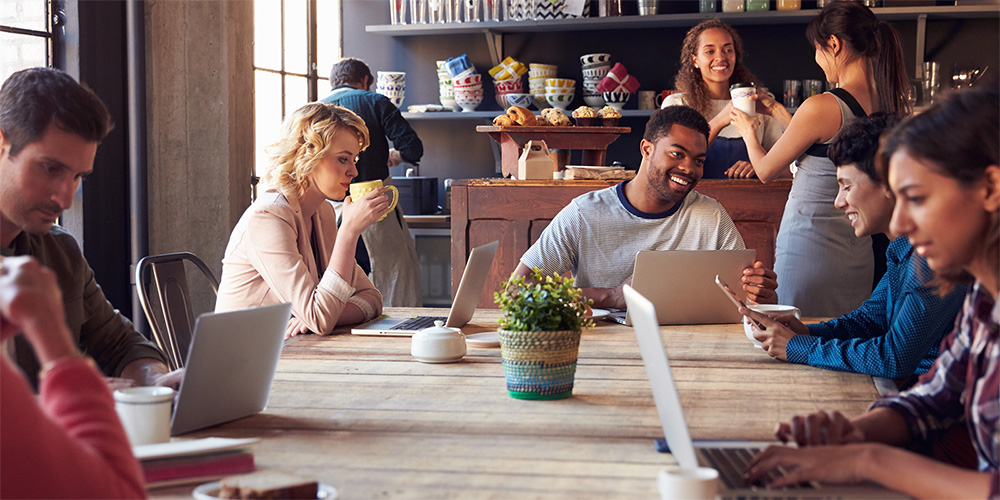 4. Make certain antivirus protection and software is up to date
Keeping the devices you use to access the internet safe and secure, is just as important as keeping your personal details safe online.  Anything on your computer could be compromised if your computer is infected with a virus or malicious software - things like personal documents that you've saved or photos that you've stored. How would you feel if all of these were lost?
The good news is, there are lots of things you can do to help keep your computer safe:
Update and scan: protect your computer with internet security software. Run regular security scans and keep your software up to date
Security fixes: install the latest software updates for your device. You'll usually be reminded when a new update is available - if there is an option to automatically do this we'd recommend you do it as these will ensure your security is always up to date
Apps and attachments: only download apps, files, or programs from trusted sources. If you receive an unexpected email or one where you have no idea where it's from, don't open it – delete it. Never click on a link or open any attachment in it.
Make sure your computer's protected with regularly-updated anti-virus and anti-spyware software, and a good firewall. Find out how in this article.
5. Beware of phishing
Email fraud is called 'phishing'. Fraudsters use this method to try to get you to click on a link, open an attachment or make a payment.
You might receive what looks like a genuine email from a reputable person or company. The email could ask you to click a link or open an attachment for further information, or to get a refund. You may be asked to download something – typically, this will be malware masquerading as something else. The software helps fraudsters access your details, and your money.
If you receive an email from someone you don't know, or from a company asking you to do something (make a payment or share personal or financial details), check the sender's email address.
For example, the sender's name could display as 'Barclays' but their email address could be Barclays123@mail.com. The address formatting tells you it's not genuine.
Obvious spelling mistakes can be a sign that the email is fake. Look out for inconsistencies in the wording, images, the presentation and the branding. Does it look right?
Don't click on any links or download attachments in emails you're unsure about. Delete the email, and block the sender's email address – that way, you won't receive anything else from that account. If you're suspicious about an email you've received claiming to be from Barclays forward it on to internetsecurity@barclays.com and delete it immediately.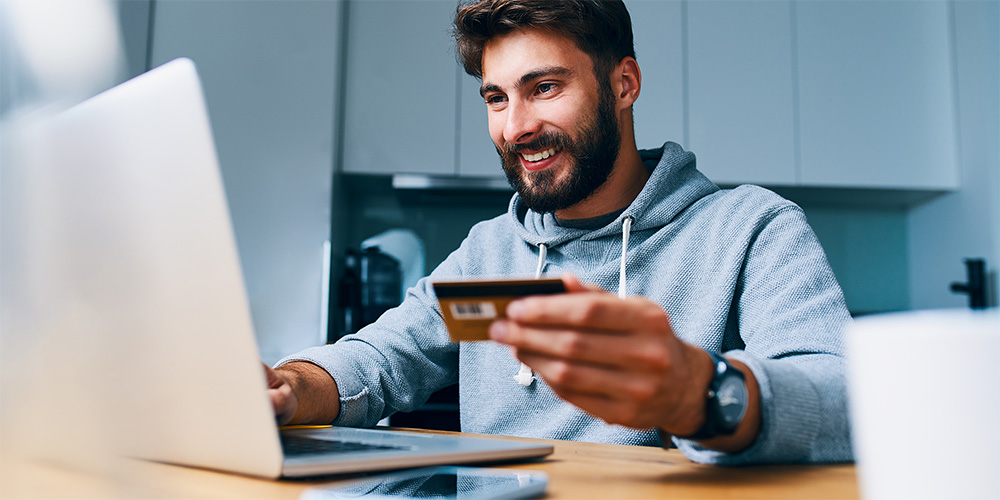 6. Beware of purchase scams
Fake adverts can sometimes be found on legitimate buying and selling websites. Be careful when shopping online for clothes, designer items, vehicles, and gym or music equipment. You might see an advert online for something that looks legitimate, but the link could take you to a bogus website. You may have even found the advert after someone you know has posted it.
Do your research and read reviews to check the site and the seller are genuine – if the offer sounds too good to be true, it probably is. If you can, view the item in person first to make sure it exists – especially if it's a large purchase.
7. Monitor and review all purchases
When you buy something from an online shop you'll usually get an email to confirm your order. This will have details about the item you've bought including the price and delivery details. Sometimes you'll get subsequent emails to let you know when your order is being processed, and when it's out for delivery. If there are any problems with your order, you'll usually be informed via email too.
Your bank might let you set up alerts on your bank account. Alerts are instant messages sent to you usually on your mobile banking app, or through text message that let you when payments go in or out of your account. Online banking, and mobile banking makes it easy to keep an eye on your statements so that you can spot and report fraudulent transactions quickly. Speak to your bank to find out more about alerts. If you're a Barclays customer, you can find out more here.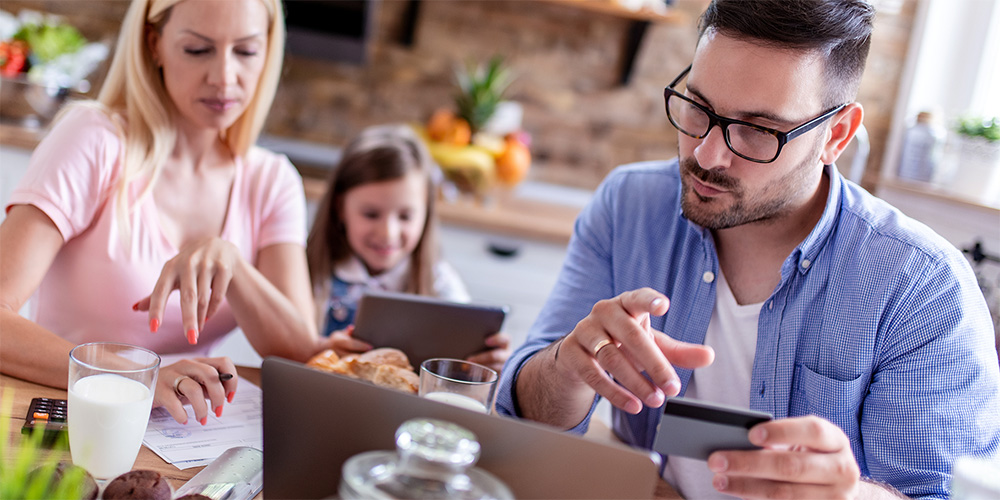 What to do if things go wrong
Sometimes online shopping doesn't go to plan: your shopping hasn't arrived when it said it would, it's arrived damaged or maybe your payment's been taken from your account twice.
It can be really stressful when things go wrong, but there are few ways you can get these problems straightened out. It's worth remembering, that many online retailers thrive on repeat business and word of mouth recommendations. With the growth of social media and people sharing more and more, most companies will try to fix your problem to avoid any negative publicity, so get in touch to see if they can fix it first.
The purchase you've made online could have certain levels of protection to help you get your money back depending on how you paid. Your debit card could offer you help through the chargeback service, and your credit card might have payment protection to help you sort out certain issues. Take a look at this Digital Wings article to find out more.
Cyber criminals can be very convincing, and thousands of people are caught out every year as fraudsters techniques get more and more refined. If you think you might've been taken in by a bogus website, you should take a note of the website's address, then close down your internet browser. Then report the details to Action Fraud and contact your bank to seek further advice.
Whether you've been a victim of fraud will depend on how much information you've provided to the website. So keep an eye on bank transactions, if you can. Contact your bank immediately about anything that you don't recognise, even small amounts.
Disclaimer:
This document is an independent publication and is neither affiliated with, nor authorised, sponsored, or approved by the companies mentioned. All trademarks are the property of their respective owners. There are other services available and Barclays does not specifically endorse or recommend the use of the services mentioned in this document.