Beginner's guide to streaming
08 June 2022
Have you ever wondered what streaming is, or wanted to watch the big game from the comfort of your own sofa but didn't know how to because you have to 'stream' it? By the end of this blog you'll be able to understand how to stream content at home confidently. Get the popcorn and your pyjamas ready…

What is streaming?
You can stream in many different ways; on your computer or laptop using a web browser, through an app on your smartphone or tablet, directly through your Smart TV or through a plug-in device that connects directly into your device. Many games consoles come with streaming services built in too.
Streaming works by allowing you to download data over a network as a steady, continuous flow, allowing you to start enjoying the content while the rest of the data is still being downloaded.
There are lots of different streaming services and providers available which allow you to access a wide variety of content including TV and film, podcasts, and music videos.
Some of the most well-known providers of streaming services to watch include Netflix, Disney+ and Amazon Prime, with Spotify, Amazon Music and Apple Music giving you access to things to listen to, such as music and podcasts. There are plenty more available depending on what you like to watch or listen to. Most streaming services require a subscription, although some do offer a free introductory period. Make sure you check the terms and conditions when registering for a streaming service provider.
Here are some of the things you can stream across a variety of different providers:
TV shows
Films
Music
Live sporting or music events
Podcasts
Games
A quick search of the internet will provide you with a list of streaming services, both fee-free and fee-paying for audio and video content. You can often give access to your account to several users in your household but some providers limit the amount of users and/or devices that can be assigned to an account, so take some time to read through any terms and conditions and reviews to make sure you're happy to use the service provider.
Every service has a slightly different offering, but you'll find they also have exclusive content to entice you in. In fact, some music streaming services have exclusive relationships with a particular artist, so it's worth checking if your favourite band or singer is available before signing up.
Before signing up to any streaming service, consider what you think you'll want to download so you choose the best option for you.

How does streaming work?
Streaming allows us to pick a film or TV show to watch, or listen to your favourite artists' latest album instantly over the internet. Some say it's magic – sadly it's not, but there's definitely some technical wizardry at play.
For example, you've chosen to watch the latest blockbuster film release. When you click play, the content is triggered to be sent to your device from a server. The content is broken down into bite-sized pieces (data-packets), so as not to overload your device causing buffering. These parts of the film are then played seamlessly as each piece of data arrives - like a conveyor belt. This flows just like a stream – hence the name streaming. Watch this short video we found on YouTube from MediaPlatform Inc¹ to see how streaming works in action:
Once you're logged on to your chosen streaming service you can start to explore the content available. There's so much to choose from including films, TV box sets and music.  You can personalise your accounts too by adding shows you want to watch, or music you like to listen to, into playlists ready for you to access when you log on.
Streaming and downloading - what's the difference?
If you're over a certain age, you might remember the days before the introduction of high speed broadband, enabling us to stream content over the internet and watch it immediately.
Before then, trying to watch something online could be incredibly frustrating. There was often a lag in the sound and the images, and regular buffering. Most of us would download the video we wanted to watch so that we could watch the video as it was intended – even though that could often be quite time consuming.
Because it's so easy and quick to stream quality content now, most of us only download the content we want to enjoy for those occasions when we don't have reliable internet connection so that we can watch it whenever, and wherever we like, such as on your daily train commute, or for keeping the kids entertained on holiday. Not all providers allow downloading of content, and some might charge a fee to do so.
When you stream content, it doesn't take up much storage space on your device, however if you're downloading shows, you'll need to make sure your device has the capacity, although sometimes you can use separate storage devices for your saved shows such as an SD card. You'll also need to make sure that you're connected to your WiFi while you're streaming or downloading content, as it can use up huge amounts of your data allowance if not.
Check the settings of your streaming service to see how you can download content for offline viewing, and how much space shows will take up.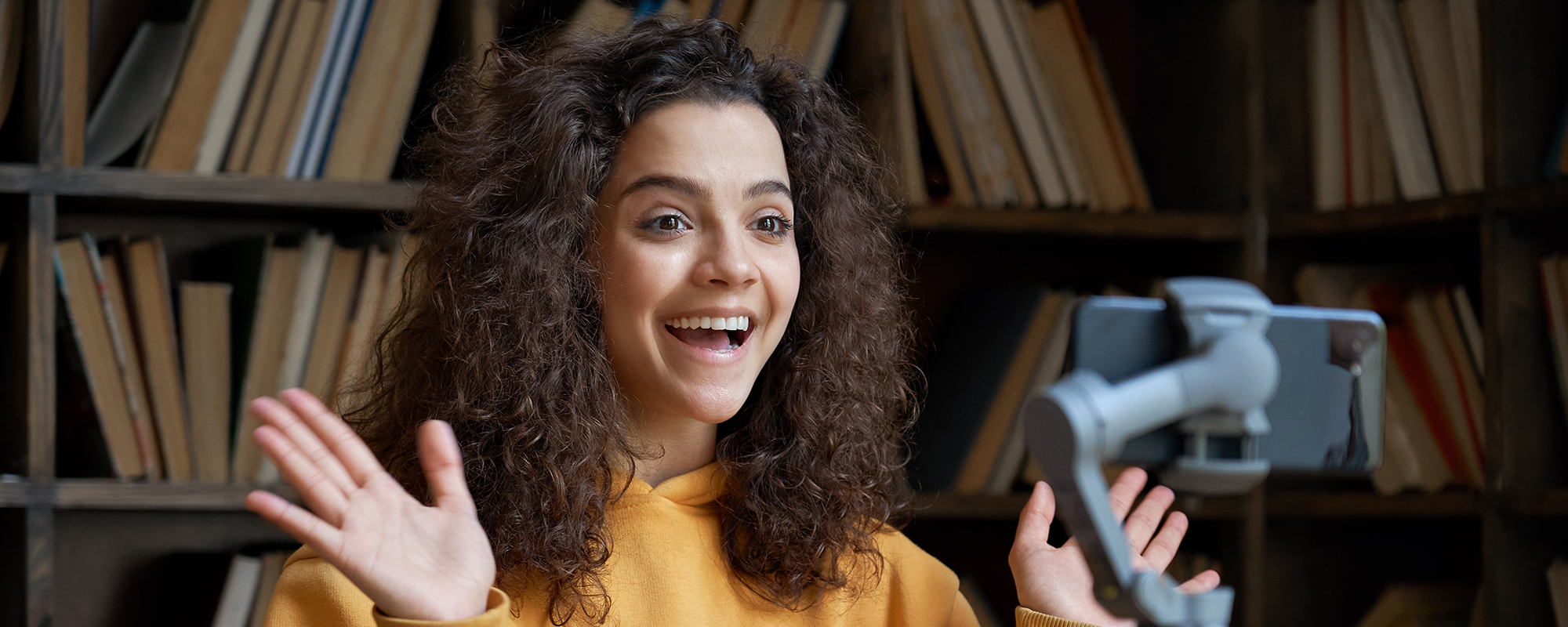 What is live streaming?
Just like streaming, you need to be connected to the internet to be able to create or watch live streamed content. The biggest difference is that live streamed content isn't pre-recorded. It's shared live and uncensored publicly or kept private.
If you've ever been on a video call for work purposes using Skype or Zoom, this is technically a form of private live streaming, as attendees will have been given a unique link or code in order to join the meeting.
During live streams, attendees can often engage with others by making comments to interact. It can be a great way to communicate with like-minded people, but it can come with its own risks. Thinkuknow have written this short article covering some of the things you need to know about when live streaming.
How to stream content at home
Before you can get started with streaming, you'll need an internet provider and a device to watch on. This could be a tablet, smartphone, , or TV. You need to check if your devices are compatible first, and that your internet provider can provide good enough broadband speeds to enable you to watch your shows without buffering.
Not every streaming service is compatible with every device so it's worth having a look around before deciding on the best option to suit your device or your needs. For example, if you don't have a smart TV or a TV that has a HDMI port, you'll still be able to find a streaming service that will allow you to watch your favourite shows or films.
To get started with streaming services you'll need two things:
an internet connection
a compatible device to watch or listen on.

You can usually check or compare the speeds available in your area by using a price comparison website for broadband providers. They'll also give you an idea of how much it could cost you and should be able to tell you what speeds you'll need for your household's internet use.
The amount of data you use per hour when streaming depends on both the content and the quality of the stream you're using, here are a few examples:
Most streaming services require 3 - 25Mbps
Internet providers typically offer 50 - 5000Mbps
Standard definition films or TV shows will use around 1GB per hour
High Definition uses around 3GB per hour
4K streaming uses around 7GB per hour
The average film lasts between 1 hour and 30 mins and 2 hours, so if your data allowance was 10GB per month and you tried to stream a 4K movie you may miss the end of the film as you've run out of data.
Consider how many devices you might want to use at the same time, as this may impact the quality of the sound or picture depending on your internet speed. If you're going to use mobile devices to stream live data away from any Wi-Fi connection, take extra care as this will seriously eat into your data allowance. It may be better to download the data directly onto your device using your home network first and then you can enjoy the content offline.
As there are so many different combinations of streaming providers and devices possible, we recommend using the guides available from either your service provider, or the manufacturer's instructions for your device to learn how to get connected.

How to improve your streaming experience
To get the best experience streaming, it's really important that your internet connection is working well, at the best speeds for your needs.
Keep the number of connected streaming devices to a minimum. Shared internet connections mean the available bandwidth is shared by every connected device. If there are several people streaming different things in your home, you may find it slows things down.
If your children are going to be streaming shows, it might be useful to know that most streaming service providers offer parental controls, allowing you to restrict access to any unsuitable content for young children. You might even be able to set them up with their own profile and add a password to any other profiles you don't want them to have access to.
If you have an individual account, you'll only be able to stream to one device at any one time, so if you're relaxing in the bath listening to your playlist and one of the kids requests their favourite song using Alexa or Google Home, then you may be in a for an unwanted surprise – so consider setting up passwords or controls that only allow you to access it.
Being able to stream content at home can open up a huge library of content to enjoy. The only thing you need to worry about now, is what box-set to start binging on.
Find out how to protect yourself online, with our Digital Safety module.

 

Find out more about shopping online safety, with our Online Shopping module.

 
¹ The content in this video is independent and is neither affiliated with, nor authorised, sponsored, created or approved by Barclays. All trademarks are the property of their respective owners. There are other services available and Barclays does not specifically endorse or recommend the use of any services mentioned in this video.
More articles

How to stay focused when you're WFH
16 May 2022
Are you struggling to remain focused when working from home? Read our simple guide to find out what you can do to overcome challenges and remain focused when WFH.
What is a Smart Home?
12 May 2022
Are you considering making your home a smart home? Read our guide to learn what you need to know about smart home technologies, the associated pros and cons and how to set up your smart home.