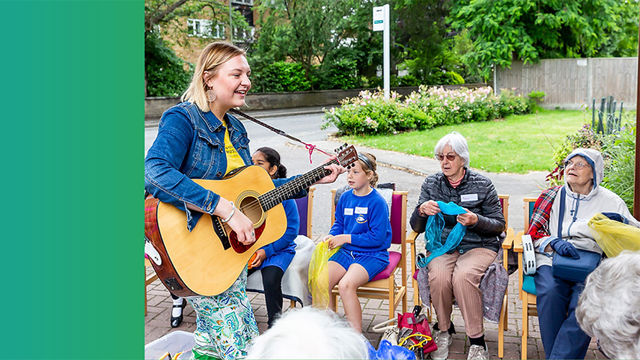 Together with Music and the Digital Eagles
Together with Music in partnership with Barclays Digital Eagles is planning to roll out a programme of digital sessions for care home staff in order to enhance their digital knowledge and skillset whilst also helping them to engage more fully in the Together with Music programme and experience.
Barclays Digital Eagles have partnered with Together with Music to boost digital confidence in care home staff, so they can fully engage in the Together with Music programme and experience it with the people they care for.
This is a guest blog written by our partners at Together with Music.
Who are Together with Music?
Together with Music is a virtual, intergenerational programme that connects schools, community groups and creatives to their local care homes and older people through music. An innovative partnership between Care England and Intergenerational Music Making (IMM) is working to connect the two parts of our communities that have been most affected by the pandemic – the young and old. The project tackles loneliness and isolation, supporting older people, not least those living with dementia and creating stronger, healthier, intergenerational communities across the UK.
We know from experience that music has the ability to connect, to transcend across age, race and background and to empower individuals to raise their voices. For those living with dementia, music also has the unique ability to connect with memory.
Intergenerational Music Making uses the power of music as the catalyst to bridge social divides, build community, and expand horizons.
Building relationships
A Together with Music relationship, introduced through our free membership platform, begins with the virtual exchange of a song. Care homes, schools and community groups are encouraged to find local connections in their community. Each group will become a member and receive access to a safeguarded platform whereby they can access resources, connect with local groups and engage with online music activities.
Both the care home residents and young people choose songs that are meaningful to them and share them with each other. This musical introduction acts as a vehicle into further connections, creativity and stronger community links across the country.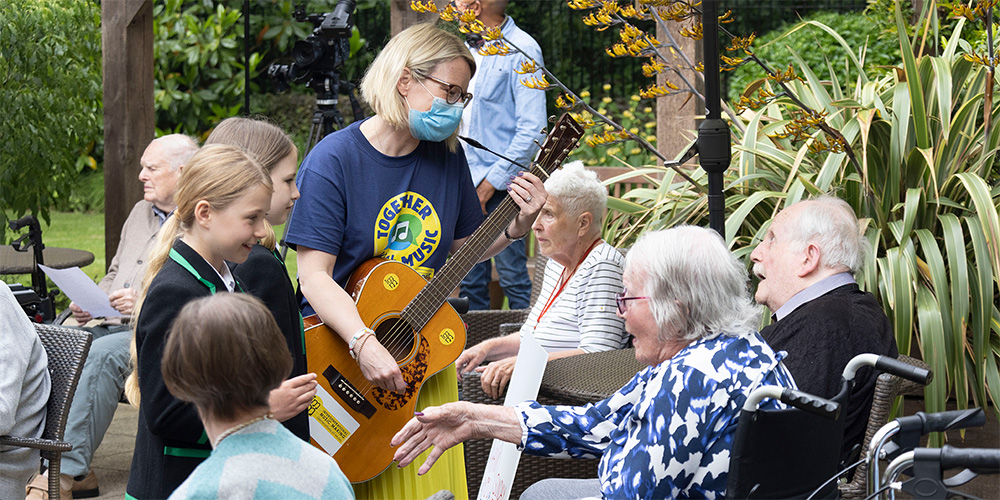 Working with the Digital Eagles
By working with Barclays Digital Eagles, we hope to:
Build confidence in digital access across care home staff members
Enable more effective engagement in the Together with Music online platform
Encourage greater access to digital resources available to Together with Music care home members
Establish support for care homes from Barclays Digital Eagles through the Digital Wings platform
To find out more about Together with Music, visit the website togetherwithmusic.org.uk. 
If you're a care home, school or community organisation keen to embark on an intergenerational journey of connection you can find out how to sign up and become a member here. As a member you'll have access to a wide range of resources including bi-weekly live sessions, enrichment activity packs and much more.
If you or your organisation would like to find out if the Digital Eagles could help you, visit the Digital Eagles Hub